This weeks crush is Paula McManus, a Ireland-based photographer, with an insane ability to give Mother Nature a leading role in each shoot. Paula has such a natural eye for how to incorporate the environment and landscape into romantic, moving wedding shots, that it's no surprise at all that she landed on our Ones to Watch. If you're planning to elope somewhere spectacular that you want to honor in your images, Paula's your gal.
Hey Paula, where are you sitting as you are writing this right now? How's your day going? How are you feeling?
I am sitting at my kitchen table on my laptop, my little one is away with my husband so I can get some time to edit some beautiful weddings : )
To those that might not know you just yet, please introduce yourself – Who are you? Cat or dog person? What's your photography style?
My name is Paula and I am a wedding and elopement photographer based in Belfast, Northern Ireland, which is home to some of the most stunning landscapes and castle ruins on the planet. I am married to my best friend Chris and we have a beautiful daughter called Isabella.  
I have been shooting weddings for over 6 years now and I feel very privileged to get the opportunity to document couples in love.  I am all about capturing the real moments, I tend to stay away from stiff, awkward poses and focus on finding those intimate moments that really matter. I am a great believer in getting to know each couple I photograph and appreciate their unique journey, personality and love. That way I get to capture them for who they are and how they are together. 
Can you show us 1 or 2 photographs that are particularly meaningful to you and share the story behind them?
This is one of my favourite images from this year because they were just so damn happy to be married. I am obsessed at the way that are looking at each other, how he makes her smile so hard and how he looks at her. This was a moment taken just after trying to pet some alpacas in the field behind them. This is what I love to capture at weddings, the real moments in between, no staged awkward shots. 
What role does Instagram play for you as a photographer? Is it important for your business?
Instagram has played a huge role in my business, it's now where I get most of my enquires from.  It's one of my most important tools for showcasing my work and generating enquires. I also love the community aspect of it all, I have met some wonderful people from all over the world simply through following them on Instagram, reaching out if I am traveling or hosting them if they are in Northern Ireland.  It has definitely helped the international side of my business, I get enquiries for some epic locations and it makes it much easier for people to find me who are thinking of eloping to Ireland. 
If you had to pick just one thing, what do you love most about being a wedding photographer?
This is hard, there's so much to love about getting to document a couples wedding day! But I find my favourite moments are when the  emotion is most palpable, when couples open up and allow themselves to be vulnerable with each other (particularly during the vow exchange), especially if they have written their own vows or make a really heartfelt speech. I cry a lot at weddings, so I am thankful I have a camera hiding my face : ) 
What's the biggest challenge you've faced that you could have a helpful lesson for other photographers?
The biggest challenge I have faced so far in my career is adjusting to the change of being a parent and managing my own business with an infant daughter.  I found I had very little time to do the big tasks like editing and although I still hit my deadlines, it was very tough.
But the biggest challenge is to maintain your creativity and I have always been mindful of that. Time shrinks with kids, we get a few minutes at best. But I also find that the time I have, I use much more wisely – and quickly. Although I don't get as much chance to just randomly shoot for fun, I think it's important to ensure my creativity levels are sparked in other ways.  A great podcast, an exciting piece of new music or a walk with the pram through some beautiful autumn light can help unlock that inner creativity that translates in to a shoot.  
Who or what inspires you?
I get inspired by the places I love. The rugged Irish landscape is a huge source of inspiration for me, traveling to different corners of the world. I find inspiration in the people I am shooting, their love for each other and how they are around each other.
What are your dreams for the future of your career?
First is to find a better work life balance, its something I am trying to work towards right now with having a toddler, I don't want to spend all my time behind the computer editing, so I am taking on a lot less weddings. I am aiming for more small intimate weddings and elopements. I would love to shoot elopements only as I just love that there are no strict timelines, no distractions, and the focus is on the couple and just being together, exploring and adventuring new lands together whilst saying their vows to one an other.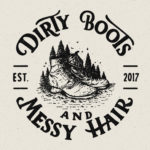 Written by:
Dirty Boots & Messy Hair Team
Connection is what it's all about. Feel free to reach out to us with any comments or questions you might have, even if it's only to say hello. If it wasn't for our beautiful community, this place just wouldn't feel the same.
Photographer Tips
09 Oct 2018