Hands up if you're single, dreading Valentine's Day and thinking of anything you can do to avoid it… Truth is, loved-up couples, staring into each other's eyes is just too much for some of us to bear. If you're thinking of ways to avoid Valentine's Day this year, then we've got a flip-side suggestion for you: what if you were to embrace it instead?
Loneliness is an epidemic, and it's directly linked to depression. However, studies have shown that loneliness is less about being alone, and more about the quality of our relationships. This important distinction means that – if you surround yourself with meaningful and authentic relationships – you needn't feel lonely this Valentine's Day. Spending it with friends or family could improve your mood and beat your blues. Here are some scientifically proven tips to help you beat the Valentine's Day blues this season.
Nothing beats spending time with others, and we guarantee you'll have plenty of single friends that feel the same as you. In fact, scientific studies published on Psychology Today show conclusive proof that socializing with others has massive benefits for your mental health. So, this year, why don't you get your friends together and throw a singles party? Each friend can bring a single friend with them and… who knows what might happen?! Maybe you'll end up meeting the love of your life. Ok maybe we're being ambitious there, you probably won't. But still, you'll have tons of fun – or at least some funny anecdotes to take away with you!
There are also plenty of bars that cater for singles and will host events on Valentine's Day. Check your local listings for more information about events in your area. Have you ever tried speed dating? Some people cringe at the idea, but it's a fun night out and it could lead you to love. The worst-case scenario is you don't meet anyone special but you meet some interesting people.
It might seem tempting to lie on the sofa watching sad movies and listening to angst music, but it's not very productive. One of the best ways to lift your mood is by being active. When you're feeling a bit blue, often the last thing you feel like doing is doing something strenuous, but it's scientifically proven to increase endorphins, also known as your happy hormones. There are many ways to get active, and it really doesn't matter what you do – just make sure it's something you enjoy.
Head to a yoga class, go for a run or hit the gym. If you enjoy playing sports, then get some friends together for a game. There are loads of activities to do, and it beats sitting at home feeling glum.
OK, it might sound cheesy but if you don't love yourself nobody else will. Being single on Valentine's Day can affect your self-esteem and leave you wondering why you're alone. Instead of focusing on your dates that led nowhere, or how your friends have found great partners, think about what you offer.
Consider all your positive points and put them in a letter to yourself. Read it out loud and feel the love! We often base our self-worth on the perceptions of others, but studies show that this has a negative impact on our overall self-esteem. Once we look inside ourselves and realize how much we offer, we feel comfortable being single and waiting for the right person to come along.
Think Thelma and Louise, The Divine Secrets of the Ya-Ya Sisterhood, Sex and The City and all your favorite girl power movies. Valentine's Day will be full of romantic movies, so if you can't beat em', join em'!  Raid your personal collection, get all of your favorite snacks and indulge. Chick Flicks don't just make us feel good, they also teach important lessons – just ask Oprah!
For the ultimate binge, ask your single girlfriends to come over, and get each person to choose their favorite movie. It's a great way to spend Valentine's evening with your best gal pals and experience some cheesy romance, Hollywood style.
They say laughter is the best medicine, and studies show that it really is! So instead of feeling blue about being single, why not instead join a group of people at your local comedy club? It's Valentine's Day, so you'll probably be treated to a range of comedians who'll have you laugh your socks off and make you feel GREAT about being single.
If hitting the local comedy club isn't your idea of fun, then check out the stand-up shows on Netflix. Amazon's hit show The Marvellous Mrs. Maisel is about a bored Jewish housewife who dreams of being a stand-up comedian. Check it out and binge-watch the first season. You won't be disappointed!
You're single, but never forget that you deserve to be happy. Instead of relying on someone else to buy you nice things, spend your hard-earned money on yourself for a change! Whether it's buying that killer new outfit or spending the day at a spa, make this a day that you treat yourself, and celebrate all the wonderful things that make you uniquely you.
Remember, it might not always feel this way, but unhappiness is a state of mind. You have the power to not just survive this Valentine's Day, but to thrive. Positive thinking can help alleviate feelings of loneliness and boost your confidence.
But above all, remember this sage piece of advice: no-one but you can complete you. A SO might complement you, but they can't make you whole. That comes from deep within the wonderfulness of you.
So this Valentine's Day, instead of focusing on what you wish you had, shift your perspective to celebrate all the things that make you – and your life – so meaningful – just as it is right now. Here are 6 things to figure out before you seek true love.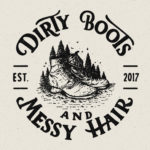 Written by:
Dirty Boots & Messy Hair Team
Connection is what it's all about. Feel free to reach out to us with any comments or questions you might have, even if it's only to say hello. If it wasn't for our beautiful community, this place just wouldn't feel the same.