Who says Valentine's Day has to be about a big show of public romance? We reckon you can have just as good an evening staying in with your loved one, grabbing your favourite snacks and snuggling in front of a movie. All you need to do is decide on which one!
We've whittled down the endless options and pulled together a list of some of the best Valentine's Day movies of all time so you can get down to the good stuff: enjoying some quality time together.
Not just an all-time classic but also a movie to teach any skeptic about love. When an inventor dies while creating his dream project, Edward Scissorhands (Johnny Depp) is left to navigate the world on his own. Dangerous in sight only with scissors for hands, Edward, who has the kindest of souls, falls in love with Kim (Winona Ryder), the teenage daughter of the couple who take him in. Chaos and emotional agony ensue as Edward tries to make others understand him. If you enjoy a quirky story about love and human kindness, this is right up your street. No mushy, saccharine romance here.
If one of you favours a comic book hero, and the other enjoys a tongue-in-cheek comedian, Dead Pool could be a great compromise. Wade Wilson (Ryan Reynolds), a mercenary, meets and falls in love with prostitute Vanessa (Morena Baccarin). When Wade is diagnosed with terminal cancer, he leaves her without explanation so she doesn't have to see him die. Whilst looking for a cure, Wade comes across a questionable experimental treatment that inadvertently turns him into an alternative super hero-come-villain and goes on a mission to hunt down the man that destroyed his life.
Dead Pool has equal amounts peril, comedy, emotion and impressive action scenes. At heart, though, it's a moving love story about the depths you'll go to for the person you love. Plus, Ryan Reynolds. Need we say more?
This offbeat movie has definite Black Mirror crossed with alternate reality vibes. It's elegantly shot and delightfully written.
In near future Los Angeles, Theodore Twombly (Joaquin Phoenix) develops a romantic relationship with a female AI virtual assistant (Scarlett Johansson) after the heartbreak of his marriage breakdown. As you would imagine, this brings about conflicting and complex feelings of love, when you find your perfect match, and pain, because she doesn't exist physically – elements that the motion picture explores beautifully to critical acclaim.
This movie is great if you're looking to challenge your perception of what love really is, and what it might look like in years to come.
Transport yourselves to the most romantic city in the world, Paris, by watching this whimsical movie. Shy yet inquisitive Amelie (Audrey Tautou) goes on a quest to discover the mysterious man in the photo booth.
A visual delight, it will leave you longing for a Parisian vacation and make you adore Amelie and her fantastical view on the world. This is one for the dreamers amongst you. Bonus points for feeling totally cultured by watching a foreign movie.
Joseph Gordan-Levitt at his awkward yet loveable finest. This movie has all the charm of an independent project and rather than following a traditional storyline, it instead jumps between various days of Tom (Joseph Gordan-Levitt) and Summer's (Zooey Deschanel) relationship. It's a heartwarming narrative of young lovers with a truly unexpected ending. Not your usual Valentine's flick. In fact, you might think of it as an anti-love story. But wonderful and romantic and inspiring nonetheless. Grab your partner and swoon over Tom and Summer's blossoming relationship and quietly romantic gestures.
If you have been living in a cave for the past six months, you may have missed the mega hype around this movie. Blue-eyed Bradley Cooper makes his directorial debut with Lady Gaga in her first blockbuster acting role. The chemistry between these two is absolutely believable and the plot line will leave you reeling in the best way.
Jack (Bradley Cooper), a successful Country music performer meets singer Ally (Lady Gaga) at a bar after his concert. They strike up an instant friendship that develops further when he invites her on tour with him. Jack helps build Ally's career whilst battling his own demons and downward spiraling career.
This edgy love story is fast becoming a cult classic – definitely one to add to your list!
So, what do you think? Will you be going for the 90s classic, utopian love story or modern day superhero blockbuster? Whichever you choose, it's important to remember that Valentine's Day is all about appreciating the one you love. Don't let consumerism cloud your judgment, a private movie night could be just what you both need to celebrate your love for each other and spend some essential time together. And they say romance is dead…
Left your V-day gift buying until the last minute? Don't panic, we got you!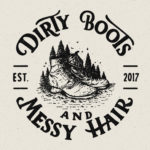 Written by:
Dirty Boots & Messy Hair Team
Connection is what it's all about. Feel free to reach out to us with any comments or questions you might have, even if it's only to say hello. If it wasn't for our beautiful community, this place just wouldn't feel the same.