Before we get into this week's photographer crush, we wanted to take a minute to explain the purpose behind our weekly crush posts! We firmly believe in community, and we believe in celebrating artists and their art. This week, we are crushing on Emma Johnson of The Bold Americana! Emma is based out of Missouri, but travels near and far pursuing her passion of wedding photography. Take a look below at what Emma has to say about herself, her life, and her art!
Hi, I'm Emma! Some days you can catch me poolside with a tiki drink in hand or binge-watching Harrison Ford movies, but the rest of the time I'm kicking it back in Kansas City, Missouri. I started doing wedding photography because I was living in Los Angeles and was broke AF while I was working 3 different jobs back in 2015. I would shoot weddings on the weekends and soon realized that I was incredibly inspired by love.
My job is truly my identity in the best way. I made my business my personality and feel like I've attracted people who are just like me. Aka: a bunch of nerds who love to take shots of Jameson and sing Benny and the Jets at the top of our lungs on a Tuesday. lol… but really, I love taking pictures of couples because of their unique love story. When you find your person, it is something to be celebrated, and I wanna be there for when you do.
What are three words your friends would use to describe you?
Spunky, adventurous, and tenacious
If you could only take one lens with you on a desert island, which lens would you take?
The canon 35mm 1.4… hands freaking down the best lens.
Social media: love it? hate it? love to hate it?
love to hate it. If it wasn't so important to the marketing of my business I wouldn't do it.. but in turn I love the community I have built through Instagram and the friends I have made all over the world.
What was the most helpful thing you did starting out that you still reap the benefit from now?
I immediately sought out personal work of things / clients I wanted to keep shooting. I knew that I wasn't built for high strung traditional weddings, so I did a ton of personal projects with couples popping bottles of champagne and jumping around like they just won a million dollars.
And what's one thing you think photographers looking to grow their businesses should invest in?
Two things; first, invest in your education. Always try to get better and find ways to challenge yourself. How do you expect people to invest in you if you don't invest in yourself?
Second, a good graphic designer that will take the time to understand you and your business, so you have a legit visual of what your brand is.
What do you wish you had known when you were starting out?
PUT AWAY 20% OF YOUR INCOME TO TAXES AND HIRE A CPA. You're welcome.
What do you see as the role of a wedding photographer? To be an artist that captures the day as they see it? Or are you there to serve the client and his/her expectations? Or is there a balance, and if so, what ought it look like?
I think it's different for different wedding photographers. For me, I'm so inspired by truly documenting a day and not just going by a shot list. I choose to be fully present when I'm shooting a wedding, because what inspires me is how unique every story of two people is. I don't catch the feels when I see a beautiful posed photo of a couple, I get the feels when I see a photo where there's beer coming out of the bride's nose because she thinks her SO is so funny. Or when the groom is crying because he's genuinely so happy at the thought of spending every single day with his honey. I believe our role is to be story tellers and to truly give our clients galleries that remind them of the real moments that they don't want to forget on their day.
What would you like to see change in the wedding industry?
I would love for people to stop thinking about Instagram fame and money and start thinking about how they can create work that can positively impact the way a couple sees one another.
 How do you achieve work life balance? What does self-care look like for you?
I recently hired an assistant who helps me with the backend part of my job. I found that I'm happiest when I have time to meet with my couples, shoot their wedding, edit, and deliver. Once I got some help on the other aspects needed to run a business, I was able to relax a bit more and truly enjoy life. Self-care to me is relishing in moments without thinking about work, and I love nothing more than having the time to be present with my family and friends while drinking rose on a patio.
Huge thank you to Emma for letting us pick her brain! To see more of her amazing work, check her out over on the gram!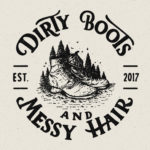 Written by:
Dirty Boots & Messy Hair Team
Connection is what it's all about. Feel free to reach out to us with any comments or questions you might have, even if it's only to say hello. If it wasn't for our beautiful community, this place just wouldn't feel the same.
Photographer Tips
08 May 2019