Hip, hip, hooray! It's weekly crush day! We are so excited to offer a weekly crush feature to our readers. We absolutely love celebrating the amazing and talented photographers that grace our feed! With that being said, let's introduce our weekly crush, Hannah Shea! Hannah is a hybrid wedding photographer (meaning she shoots both digital + film) based out of Portland, Oregon! We love how Hannah captures movement, light, and raw emotion. Scroll on to read more about Hannah and her thoughts on the industry!
Hey there, I am Hannah Shea. I am a digital & film photographer based in Portland, Oregon, and I specialize in shooting couples. You've probably seen me in the Madewell clearance section or at your local antique store for hours on end. I am originally from Northern California & have known my squeeze since 4th grade. I don't know where I would be without Cole. He is a commercial cinematographer who just so happens to like hanging out with couples as much as I do that, he shoots every wedding with me! Cole and I really care about quality time & investing in film. Our favorite thing to do would probably be taking photos or super 8 video of each other (classic) or picnicking in our bare feet with some bread and cheese involved. Photographing our couples is more than just a job to us, personal connection & the experience behind it means everything to us.
What are three words your friends would use to describe you?
Creative, intuitive, & selfless.
If you could only take one lens with you on a desert island, which lens would you take?
Hard question since I would have to choose between digital or film, but if we are talking digital, I would have to say my Canon 35mm 1.4 ll series lens. Hard to beat it.
Social media: love it? hate it? love to hate it?
It's a love hate relationship like anyone else. I would say it's the one downfall of owning a photography business because it's important to be on social media often, when really, I would love to just never be on my phone at all. But, after all said and done, I don't mind it that much. I've never been someone to get caught up in the algorithm or the need to post every single day to "keep up". I post what I want, when I want, and along the way people have come along to follow it and I think that's pretty cool.
What was the most helpful thing you did starting out that you still reap the benefit from now?
Second shooting for others and reaching out to experienced photographers with good questions. I cannot stress enough how important it was to see how other people work and to learn from professionals. When I started shooting weddings, I forced myself to reach out to big names on Instagram to try and make my own community and get the experience of being their second shooter on wedding days. I soon found out that there were some people who would ignore you and not respond at all, and that there were other people that really wanted to help & give me as much advice as possible. And I think that's pretty cool. I still use tops & tricks I learned from them on shoots to this day and am now referred by them to couples all the time. Never shy away from meeting someone and talking with them. You never know what good might come from it.
And what's one thing you think photographers looking to grow their businesses should invest in?
Invest in good quality gear & backups for your clients' precious photos. I'd say for my first two years or more of shooting I really didn't make a single dime because I put all of the money right back into my business with buying good gear & endless hard drives for my photos. If you were going to pay a photographer as much as your clients are paying you, wouldn't you want to know they had good quality gear and a safe and secure way to store your photos? I think it's pretty important.
What do you wish you had known when you were starting out?
Honestly, I wouldn't have followed other wedding and couple photographers on Instagram. We see a really good photo in a really insane location and we automatically feel crappy about ourselves, what's up with that? It took me a long time to realize that I should only be filling my brain with things that inspire me and make me feel good. So, after I figured that out, my work finally became unique to me, I start posting my film & super 8 work, and now I am stoked about my work and proud of my craft. It's important to feel good, doing good.
What do you see as the role of a wedding photographer? To be an artist that captures the day as they see it? Or are you there to serve the client and his/her expectations? Or is there a balance, and if so, what ought it look like?
My clients will forever and always be my biggest priority. Their experience & getting all the photos that are most meaningful to them is my priority. I would much rather shoot the bride hugging her grandpa in a wheelchair than a dramatic couple photo at the top of a mountain. My role is to capture the event, love, experience, etc., as it unfolds. Just because I am serving my couples to the best of my abilities doesn't mean I can't do it in a creative and artistic way. That's why they hired me. Balance between the two is what makes this so much fun for me. Creating an unforgettable and personal experience for my couples, while also artistically capturing photos they will hold onto until the end of time.
What would you like to see change in the wedding industry?
Honestly, there is a lot. Lol. But number one would probably be just making sure everyone puts their couples before themselves. I've seen way too many times photographers get wrapped up in "the perfect shot for their portfolio" instead of the most meaningful experience for their couples. We all need to remember that the heart of this industry is really the love our clients share, & the people they are.
 How do you achieve work life balance? What does self-care look like for you?
I feel like I get to cheat on this question because Cole is a big part of my "life-time" and I get to do my work with him. So, in a way it's really easy for me to feel a balance between both! But I mean when it comes down to it, I just don't overbook myself and make sure Cole and I have time to take days off and reconnect with each other in a healthy way! My self-care routine consists of Taco Bell, a fuzzy blanket on the couch, and a foot massage (thanks to Cole). That's me!
Thank you so much Hannah for sharing your wedding industry ins and outs with us! To see more of Hannah's rad work, be sure to check her out on the gram!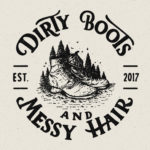 Written by:
Dirty Boots & Messy Hair Team
Connection is what it's all about. Feel free to reach out to us with any comments or questions you might have, even if it's only to say hello. If it wasn't for our beautiful community, this place just wouldn't feel the same.
Photographer Tips
26 Jun 2019