We all know that one of the most important parts of the business side of wedding photography is client relations. It can even be one of the most rewarding parts of the job — as wedding photographers ourselves, we know how easy it is to turn clients into friends, and how rewarding a great relationship with a happy couple can be.
The bottom line is that a good relationship with your clients is great for business.
Making a good impression on your customers turns them into advocates for you and your work, and a happy client will recommend your services to others again and again.
But great customer relationships can't just be seen as a marketing exercise. In order to really work they have to be authentic, genuine, and come from your clients being satisfied with you as a person as well as a professional.
The first step towards building great relationships with your clients is, of course, doing a great job and ensuring that they are happy with your work. But there are loads of ways outside of the job itself that can go a long way towards creating positive relationships.
One of the best of these is giving Christmas gifts. After all, who doesn't like getting something special at Christmas?
Christmas is a great time to show your clients that you care, and picking the right gift can make the difference between them just being happy with the job you did, and remembering you next time someone asks them for photography recommendations.
There are a few useful guidelines about gifting etiquette for clients that we like to follow that might be helpful here.
Give gifts that keep on giving. Things that can be passed on, handed down or even just displayed are a great way to keep you at the top of your clients' minds, and get them talking about you without even thinking about it. Give them something lovely that needs to be displayed, for example, and every time their friends and family ask about it, your name will be on their lips!
Give them something that reminds them of the big day. You were a part of the most important day of their lives, so don't hesitate to follow up on that with a gift that reminds them just how great it was!
Steer clear of alcohol, flowers, or anything that might cause issues with allergies, or be in any way controversial – unless you know it's definitely something they would love!
Always leave a handwritten note! There's nothing more special than getting a handwritten letter. It doesn't need to be long, but this addition to your Christmas gift will make it all the more personal and important to them!
So, here's a little list of some of our favorite Christmas gifts that wedding photographers can buy or make for their clients. Enjoy!
Nothing says Christmas like an ornament to hang around the house, so why not create a memento of their big day that they can hang on their tree that will remind them of that happy time (and you!) forever?
A handmade Christmas ornament is a classic gift, and one that will return year after year. Making something pretty and unique with ribbons and cards is easy as pie, and there are also plenty of options for having them made for you.
Whichever way you choose to go, you can't really go wrong!
A couple of prints from your clients' wedding gallery is guaranteed to bring them smiles. Maybe their wedding was recent and they haven't had the chance to print the photos yet, or maybe they wanted to display a few extras around the house – either way, sending along a few prints is an easy way to surprise your clients with a little complimentary gift. Just add your Christmas card, maybe a little extra something (like a gift card to a local coffee shop!) to spread a little bit of love! No matter how small the gift, just surprising them with a little something to let them know you appreciate them will mean the world.
Of course, the happy couple will have printed plenty of versions of your photos for display already and will almost certainly have digital and physical albums full of your beautiful images stashed away. But who doesn't love an itty-bitty canvas as well?
When packaged up beautifully, a tiny canvas of the happy couple can have a huge impact. The great thing about these gifts is that your clients can take and place them anywhere – the office, the living room, even on holiday – a tiny, tasteful reminder of the happiest day of their lives… and one that might get other people asking about who took the photos — potentially driving new business for you!
A classic photographer's gift, and one that never gets old, a calendar filled with photos from your client couple's big day is thoughtful, attractive and practical.
As an added bonus, an elegant calendar filled with your photos is a great way to keep your work in front of your clients all year round. Mix and match a combination of full-page standout shots with creative mosaics, and they'll have something beautiful to look at every day of the year.
Personalized gifts for couples
This one is nothing to do with photography, just a thoughtful gift that will appeal to any couple. Make it personal to them! Did they just move into a new home? Consider a personalized pillow or throw blanket! Are they avid coffee drinkers? Maybe a pair of cute, personalized coffee mugs. A personalized gift with the couple's initials and dates of their wedding, is a tasteful, sweet and delightful gift that will show you care and make any couple smile.
Is there anything your couples love? Like really love? If you happened to catch their favorite TV show or sports team, maybe think of something along the lines of that. For example, if your couple is obsessed with coffee, maybe send them a holiday coffee blend you know they'll love. If they're dog owners or lovers, consider including a dog toy or something pup-related! And if they have a love for a TV show like The Office, why not include a little Dunder Mifflin tree ornament or a themed deck of cards! Anything that might be sweet additions to their new homes or the season of life they're in is sure to brighten their holidays.
This final idea might require a little creativity on your part, but it is well worth the extra effort.
If you are already an arts and crafts wizard then this won't be a problem for you, and really it is just a chance for you to let your other skills and talents shine! Grab a sturdy, attractive box, and fill it with packing straw. Then just go with the flow and let your creativity take over! If you are a keen baker, pop in some homemade cookies or a brownie or two.
Got green fingers? Pickle your spare veg, or turn those fallen apples into chutney, and pop a jar in the box.
Love to paint on the side? Sketch up a little personalized gift, add a beautiful vintage frame and bingo, you are all set. You'll have a truly authentic and personal gift box that really says how much you care about your clients, as well as a boatload of goodwill.
Giving Christmas gifts to your wedding photography clients is a simple touch, but one that really has a huge impact. Your customers will love receiving them, and if you are anything like us you'll love giving them as well! Clients will be more likely to recommend you to their friends and family, they'll post about your kind gesture on social media, but most importantly you'll have built a stronger relationship with them, and perhaps even gained some friends!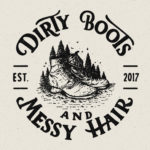 Written by:
Dirty Boots & Messy Hair Team
Connection is what it's all about. Feel free to reach out to us with any comments or questions you might have, even if it's only to say hello. If it wasn't for our beautiful community, this place just wouldn't feel the same.
Photographer Tips
07 Dec 2020