This week, the Dirty Boots and Messy Hair photographer crush is Aubrey Oothout! Aubrey is a traveling wedding photographer based out of California. We sat down with Aubrey and learned all about her business, her goals, and her inspiration. Take a look at what she had to say!
Where are you sitting as you are writing this right now? How's your day going? How are you feeling?
I'm sitting in a sunroom in Campbells Bay, New Zealand drinking a cup of coffee! My morning is very quiet and relaxing. I'm happy to get back to work and answer any emails I was sent over the weekend.
To those that might not know you just yet, please introduce yourself – Who are you? Cat or dog person? What's your photography style?
I'm Aubrey! A 23 year old wedding photographer from Nashville, TN but now based in Southern California. I really enjoy traveling for work and documenting love stories from all over. My favorite thing about my job is creating a bond with my couples. I believe this is the key to taking great photographs of people. To truly dive deep with who you're working with and become good friends! My style revolves around candid moments that always tell a story every time you look at the image. I like to be silly, adventurous and vulnerable with who I'm working with. I totally understand getting your photos taken can sometimes be awkward, I gotta spice it up somehow! I start out with asking them how they want the photos to feel.
Can you show us 1 or 2 photographs that are particularly meaningful to you and share the story behind them?
One of my grooms kissing a portrait of his mother that passed away sitting front row on his wedding day to make it apparent that she is still here, made my heart feel something I can hardly even describe. It was just beautiful.
What role does Instagram play for you as a photographer? Is it important for your business?
Instagram is definitely a great platform for business- especially for it being free advertisement. It's where about 90% of my clients book me! I really enjoy using it and connecting with clients and other photographers.
If you had to pick just one thing, what do you love most about being a wedding photographer?
What I love most about my job is being around love. I didn't see or feel it as much growing up, so when I do today the appreciation for it is boundless. You know how some people complain about third wheeling? I genuinely love it! Having the opportunity to document it is something so rewarding to me.
What's the biggest challenge you've faced that you could have a helpful lesson for other photographers?
The biggest challenge I've faced is a wedding I had in Massachusetts. The bride also hired 2 other photographers and 2 videographers with a VERY small ceremony location. Close to every important shot I had, was with the other photographers/videographers in the background. Something I wish I would of clarified before, would of been to ask the bride or groom how big the ceremony site was to give me a general idea of what I was getting myself into. Another major thing I've learned is to always scout out the location (typically a day before), around the exact same time you'll be shooting the next day. If the weather cooperates the same, which it usually always does, you get a good idea of what lighting will be like.
Who or what inspires you?
What inspires me the most is my past. As interesting as that is, it motivates me to create and be vulnerable with my work. I grew up being a visual learning, so I love to incorporate that in being creative with my photographs. Some of my teachers in middle school / high school told me I needed "special care" to focus in class. I'll never forget how horrible they made me feel about myself. Like I wasn't good enough or smart enough to become something later in life. I still remember one of the teachers looking at me and saying "You won't be able to graduate and get a job if you can't do this." I was in 7th grade. A lot of things like this occurred in my past where I didn't feel "good" enough, and I finally dropped out of college (which I didn't even want to go to in the first place), and started living for myself. I packed my car when I was 19 and headed out west to pursue my photography. I always knew I would be an artist because I always enjoyed creating.
What are your dreams for the future of your career?
My dream for my career is to eventually become an elopement photographer that travels around the world to document peoples love stories. There's so much out there, and my curiosity to hear peoples stories and document love is so heightened.
Huge thanks to Aubrey for chatting with us! To see more of her amazing work, be sure to follow her on the gram!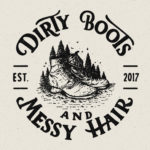 Written by:
Dirty Boots & Messy Hair Team
Connection is what it's all about. Feel free to reach out to us with any comments or questions you might have, even if it's only to say hello. If it wasn't for our beautiful community, this place just wouldn't feel the same.
Photographer Tips
30 Jan 2019