Valentine's day is about flowers, chocolate and romantic meals for two, right?
Wrong. For some people, this day of romance feels restrictive and all about social convention. If that sounds like you, there's nothing to say you have to follow the crowd this Valentine's day.
If you want to do something unconventional, then worry not. We've pulled together some epic, unconventional ideas just for you. Surprise your other half this Valentine's day and choose one of these unconventional valentine's gift ideas!
If you and your SO prefer a slasher movie than the latest rom com, then why not celebrate that? Valentine's Day doesn't have to be all about romance, it's about spending time with the person you love. Do something you enjoy and buy a Horror movie box-set. There are plenty available at online at a crazy affordable price, including Wes Craven, Stephen King, and classic horror collections.
Are you both animal lovers? Then spend the day with your favorite furry friends and get swept up in all the cuteness. There are plenty of zoos around, or you could even visit a sanctuary to get a more hands-on experience. Some reserves allow you to interact with the animals and learn more about them. Whether you're a wolf lover or prefer cute dolphins, there's plenty to do. Even better, why not spend the day volunteering at your local animal shelter? So many animals are in need, and shelters need volunteers. Share the love this Valentine's day and do something different.
Some people love laser-tag, some have never done it, but there's a reason it's so popular. Imagine running around with your loved one, defending each other in a dramatic shoot-out! How very wild west! OK, it's not for everyone, but it's a hella lotta fun. If your partner is a Star Wars fan, then unleash your inner geek and treat them to an epic laser battle this Valentine's day.
It's cringe-worthy, loud and there's always something who thinks they're the next Beyonce! Karaoke is a dream for some, and a nightmare for others, but it's cemented itself in American culture and is here to stay. If you and your other half enjoy karaoke, then cruise around the karaoke bars in your city this Valentine's day. Think of the songs that remind you of each other and sing them full pelt (we won't tell anyone if you need a little dutch courage before hand). It's sweet, romantic and much more fun than sitting at a stuffy restaurant.
Camping is the ultimate excuse to cosy up with your loved one in the great outdoors. Picture the two of you, under the stars, cooking at a campfire and listening to your favourite music together. There are loads of national parks that allow camping or set up a tent in your back yard. If a night in the great outdoors doesn't appeal, then how about setting up a blanket fort in your living room?
If you live in a large city, then it's likely there are loads of neighborhoods you haven't explored yet. Take a walk with your partner and plan nothing. This means you'll enjoy the sites and experience new things. You might find a beautiful park, a quirky thrift store or a fantastic restaurant. There are loads of opportunities, and it's perfect for couples on a budget. Enjoy your day and you might find a whole new favorite place you never even knew existed.
If your other half makes your heart jump, then why not make it literal by….jumping off a bridge with them? Bungee jumping is the ultimate experience for thrill seekers, and nothing says "I love you" than facing your fears, together. There are loads of amazing places to Bungee in the USA, including off the Redwood Trees in California, or from the Las Vegas Stratosphere.
Most people share a bottle of expensive wine on Valentine's Day, but there are plenty of opportunities to sample beers at your local brewery. Beer-tasting is a great way to consider new beers and bond with your other half. With so many amazing local breweries popping up, why not there's no end of quirky new brands and tastes to try – plus you'll be supporting a small business, win-win!
Where did you first meet? Where was your first kiss? First fight? Send your spouse on an adventure and do something original this Valentine's day. Scavenger hunts are so much fun, and they take a lot of planning. Leave handmade clues and reward your partner with dinner at their favorite restaurant or tickets to see a show.
There are some stunning sites in the USA, and nothing beats seeing them in a hot-air balloon. Imagine feeling the wind on your face as you take flight with your loved one. It's romantic, fun and great for thrill seekers. There are plenty of companies that offer hot-air balloon rides, and loads of beautiful places to see.
Whatever you decide this Valentine's Day, make this the year you buck the trend and do something totally unconventional and uniquely you! After all, the best part about Valentine's is spending it with someone you love and experiencing new things. Still after a little more inspo? Here are 5 adventurous date nights you'll want to organize right now.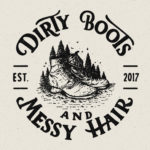 Written by:
Dirty Boots & Messy Hair Team
Connection is what it's all about. Feel free to reach out to us with any comments or questions you might have, even if it's only to say hello. If it wasn't for our beautiful community, this place just wouldn't feel the same.
relationships + dating
02 Feb 2019