Valentine 's Day is about love and romance. Everywhere you turn you'll see hearts, flowers and loved-up couples grinning blissfully at each other. Yes, for some Valentine's is an opportunity to indulge in romance, but others roll their eyes at the day. To those who are more valen-whine than valentine – we feel ya.
Call us cynical, but we're one of those types of people that believe you should show someone you love them every day. That means, though we like to celebrate Valentine's Day, we take it for what it is: just another opportunity to show the person we love (or are crushing on) how we feel. This isn't always practical, especially when your other half wants to get lost in the romance and cheesy gifts.
So, is there a happy medium? How can us cynics celebrate Valentine's day without tearing our hair out? There are loads of ways to enjoy Valentine's celebration without giving into the commercial hype. Here's our pick of the best ways to enjoy Valentine's Day without giving in to the commercial hype.
New relationships are great, but sometimes the stress of Valentine's day can be too much. Reduce stress by throwing an epic Valentine's party this year. You can invite your friends and enjoy good food and music without surrounding yourself with hearts and flowers. Have fun and enjoy the day with others rather than sitting tete-a-tete in a restaurant. If you've got single friends, you can support them during the day. Valentine's puts a lot of pressure on single people, so celebrate with everyone you love. Ultimately, that's what the day is about.
If you've got an amazing girl gang around you, then screw Valentines – you should be celebrating Galentines Day by spending it with the women in your life. Friends are forever, so show yours how much they mean to you. You can spend the day with your other half and evening with friends. Buy each other gifts, share with your friends what you love about them, snap for your friends like you're in Legally Blonde!
Valentine's Day is about sharing and loving, so what about if you and your partner enjoyed the day together by giving back to others. There are soup kitchens, homeless shelters and many other causes that need volunteers. Instead of spending the day surrounded by cuddly toys, you can volunteer at an animal shelter with lovable puppies and cute kittens. It will also bring you and your partner closer together and you'll appreciate the real message of the day.
Candle-lit dinners, holding hands on the beach, staring into each other's eyes – shall we stop now? Some of us just aren't the romantic type and that's ok! Why spend a day doing something you hate when you can have an incredible experience that'll get your heart racing for a totally different reason? There are hundreds of activities for you and your partner, including bungee jumping, sky-diving, car racing and much more! Enjoy the day with your loved one with a thrilling experience.
If you have a single friend, then why not ask them to help you out this Valentine's Day? Get a few couples involved and ask your friend to create a quiz. The questions can involve finding out how well you know each other, and scenarios based on how each person thinks their partner will react. You'll see how well you know your partner and you can include single friends, so they're not left out on the day.
Cooking shows are everywhere these days because we love getting inspired by others' creations. Why not channel your inner Masterchef and get competitive with your other half by taking part in a cooking competition? Pick your menu, cook your dishes and see who wins! If you have couple friends then team up and do a proper competition. You'll have fun and you might find some inspiration for your future cooking efforts.
Karaoke bars are everywhere, but in the past the ultimate singing party took place around a piano. Have people dress up in vintage clothing and sing some classics. Throwing a piano party is a brilliant way to spend time with your partner and other couples and it's not commercial! You and your partner can dedicate a song to each other and sing (hopefully well) in front of your friends.
Enjoy nature this Valentine's day and take a hike in one of your favorite beauty spots. Forget buying bouquets of flowers and enjoy them in their natural environment. There's nothing more romantic than enjoying the scenery of mountains, beaches and canyons. If you're feeling adventurous you and your partner could take part in a scavenger hunt.
If you and your partner aren't sure what to do this Valentine's Day, leave it up to fate. Go to your train station, pick a random platform and buy a ticket for the first journey. You won't know where you're going, and you could end up exploring some interesting places. It's unconventional, and it gives you some spontaneity on one of the most predictable days of the year.
These are just some fantastic Valentine's Day ideas. Think about what makes you happy and spend some quality time with the one you love. And, if you need a little summin' summin' to spice things up when night falls, check out this post.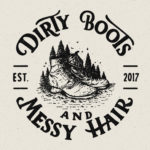 Written by:
Dirty Boots & Messy Hair Team
Connection is what it's all about. Feel free to reach out to us with any comments or questions you might have, even if it's only to say hello. If it wasn't for our beautiful community, this place just wouldn't feel the same.