Woot woot, it's weekly crush time again! This week we are crushing on Abbie Rose! Abbie is a photographer based out of British Columbia, although she's totally down to travel! Take a look at what Abbie has to say!
Where are you sitting as you are writing this right now? How's your day going? How are you feeling?
I am sitting at my kitchen table, drinking my second cup of tea, listening to a great podcast, and looking out my sliding glass doors. There's snow outside and lots of cars driving past. Feeling super tired but it's a beautiful day and golden hour is beginning, so I feel warm and soaked in light.
To those that might not know you just yet, please introduce yourself – Who are you? Cat or dog person? What's your photography style? 
I'm Abbie Rose Wilson, and I'm a 25 year old mama and photographer! My daughter Florence is my magical sunshine flower. I grew up in a massive family and love kids and dogs. So, yes – definitely a dog person – still awaiting the day when I live in a larger home and can adopt a dog into our little family. I own over six hundred books and almost as many types of teas, but still manage to read the same book over and over and drink the same tea day in and day out. I love travelling but always come back to my small hometown in BC, Canada. I am an empath and highly sensitive person, an INFJ, 2w3, and yellow/blue for all my fellow personality quiz nerds out there! My emotions are wild and deep, and that inspires my photography style in a giant way. I will always choose connection over perfection. I live for the in between moments. My style could be described as fluid, emotive, and intimate – I shoot almost everything on a 35mm lens so that I'm up close and personal and in all the action. There is so much love and emotion to be witnessed as people join their lives together and it fills me up.
Can you show us 1 or 2 photographs that are particularly meaningful to you and share the story behind them?
This first photo embodies the relief, happiness, and playfulness that comes out when I finally get the couple all by themselves after their ceremony. I usually find they are super comfortable and there is lots of emotion after they've just exchanged vows and kisses! I love getting to run and jump around them while they are being their excited newlywed selves. This bride is the sweetest too – I love when they stay in touch.
This second photo is from an amazing week in Portugal in 2017, which was a big year for me of finally shooting the work that fills my soul. These two were my new friends and their affection and the fun they had with each other was so exciting to photograph. We spent about twenty minutes on the edge of these cliffs. It was windy, thrilling, and magical and I had butterflies in my stomach and the biggest smile the whole time.
What role does Instagram play for you as a photographer? Is it important for your business?
Instagram is my biggest lead source, so yes, very important. I meet most of my couples and families on there. I use Instagram stories a LOT and love connecting with people through those! Instagram is an amazing tool for photographers. I truly believe in being completely myself in my stories so that people can get to know me. My couples often talk about recent stories of mine or they reply to my stories and vice-versa. It's fun!
If you had to pick just one thing, what would you say you love the most about being a wedding photographer?
My favourite part of my job is getting to know my couples. I love all of them and one of my favourite moments of the day is the speeches in the reception, because you get to witness how much others love these two people and the reasons why.
What's the biggest challenge you've faced that could be a helpful lesson for other photographers?
Workflow has been an all-consuming challenge for me. I encourage everyone to organize yourself before the wedding season begins! Make a workflow chart, set reminders for tasks that need to be done, and have a schedule for backing up your files, editing, sharing, and delivering. Be relentless in sticking to your timelines. Have a brilliant contract that covers everything. If you have children or plan to, find ways to "babyproof" your business – and make sure you have lots of help. Another challenge I've had is taking enough time to rest. At this point in my life, I no longer work past 8 pm. I get everything done during the day and naps, because sleep is ESSENTIAL to not burning out and staying sane, especially during the busy season! Make self-care a priority.
Who or what inspires you?
I get really inspired by films, music, books, poetry, light, and people-watching! If you keep your mind open, inspiration is everywhere. I have a very very long list of photographers that inspire me, but I highly recommend finding forms of art other than photography to inspire you. I love observing people and all the different ways they connect, touch, and experience life. Keep searching and learning!
What are your dreams for the future of your career?
My dream is to be shooting one wedding or elopement a month that fills up my soul, whether they be local or out of town. I don't want to be a high-volume photographer; that's never been a goal for me. I want to give myself wholeheartedly to each client and provide them with an incredible experience. I am working towards that every day! I also want to write a book, do more birth work, and travel lots with my daughter. It's all a part of the plan.
Huge thanks to Abbie for sharing her hopes, dreams, and business insights with us! Be sure to head over to Instagram to check out more of her amazing work and give her a follow!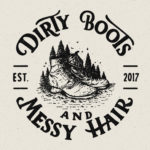 Written by:
Dirty Boots & Messy Hair Team
Connection is what it's all about. Feel free to reach out to us with any comments or questions you might have, even if it's only to say hello. If it wasn't for our beautiful community, this place just wouldn't feel the same.
Photographer Tips
06 Mar 2019