The days are short, the nights are very, very long. The warmth and light of the Spring sun feels a little too far away at this point so you need to do everything you can to get yourself in to a motivated mindset.
In the absence of a magic wand to crank our energy levels up a notch, we've been thinking about how small things can make a big difference to our mood. This is what we've come up with: Make plans you can look forward to; put on your jazziest outfit; grab that friend whose glass is always half full; and crank up this playlist. It's a surefire way to put a smile on your face and a spring in your step. So, here is our ultimate confidence boosting playlist.
Can't Hold Us – Macklemore & Ryan Lewis feat. Ray Dalton
Modern, upbeat, catchy: the perfect start to the list. And just the message you need to hear right now.
Surely this counts as a modern classic? We defy you to sit still when this one comes on, and don't even think about pretending you're not going to sing along.
If you were a teenager in the '00s, you definitely listened to this on repeat. In fact, was it even a song in the charts if Sean Paul didn't feature on it? You probably had a dance routine as well. Bust it out, no judgment here.
Another banger that has just the right amount of Usher nostalgia, with a heavy dose of get up and go. It's just what you need to drag your sorry self to work in the morning.
Turn Down for What – DJ Snake, Lil Jon
Instant energy: once that beat kicks in it's like downing a double shot espresso straight, and then chasing it with another. Now, go get your wiggle on.
Young Blood – The Naked and Famous
Going into the indie section of the playlist now. A totally different vibe to the above tunes but just as motivating. This is the coolest (and cheesiest) pop hit in our energy playlist.
The Mother We Share – CHVRCHES
Synth-pop is a genre you might not be super familiar with, but this song is so catchy we reckon you're going to be into it.
Houdini – Foster the People
Along the same vibe, this track has a great clapping intro that is infectious. Ideal for office listening, it's bound to appeal to even the fussiest of music critics and keep the whole team motivated.
The entire album is full of upbeat indie-pop tunes. It's the ideal running playlist – consequently also a great mood lifter. If running isn't your thing, a power walk works just as well. Just stick those ear buds in and get that heart rate up.
Don't Stop Me Now – Queen
Come on, now this is a proper classic. Brightening listener's days for 40 years now, it's an essential on anyone's playlist, no matter your music taste.
P.Y.T. (Pretty Young Thing) – Michael Jackson
Turn it up loud and belt it out. To be honest, this song could be swapped out for almost any Michael Jackson song. It's a nostalgic hit for any generation and we promise you'll be up and moon walking.
Don't Stop Believin' – Journey
You can't hear the title of this track without singing it in your head, can you? The opening beats are enough to make your heart sing and your body move.
You Make My Dreams – Daryl Hall & John Oates
This is the kind of song your parents played during your childhood. It's bound to bring back joyous memories and give the darkest of days a little boost.
Let's Dance – David Bowie
The late, great Bowie. He was an inspirational character in both spirit and musically. Channel his confidence, self-assurance and courage – you can achieve that goal.
Superstition – Stevie Wonder
Stevie Wonder rounds up our mood lifting playlist, and we think you'll agree it's a pretty solid choice. There's a reason it's a favorite on the wedding party playlist – it gets everyone up on their feet. Don't resist it!
What's your go to energy booster? Everyone has that one song that is guaranteed to reverse that bad temper. We all need a little pick me up every now and again and music has an amazing way of changing your mood almost instantly.
In a funk when it comes to your love life (or lack of)? Read this before logging on to your dating app…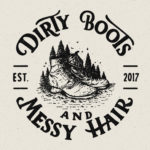 Written by:
Dirty Boots & Messy Hair Team
Connection is what it's all about. Feel free to reach out to us with any comments or questions you might have, even if it's only to say hello. If it wasn't for our beautiful community, this place just wouldn't feel the same.
relationships + dating
07 Mar 2019