There's increasing pressure for businesses to be thinking about their CSR – that is, corporate social responsibility. What's more: being an environmentally and eco-friendly wedding photography business is a highly desired quality these days.
And that's relatively straightforward when you're a mass manufacturer or global multi-national company. These guys will have lots of different ways to try and lower their organization's carbon footprint and make their business model more eco-friendly on the whole.
But what about when you're a small-scale startup? Or freelancer? More specifically: what if you own your own wedding photography business?
When you already work at a local level, it may be less obvious how you can boost environmentalism within your operations.
Less obvious, sure.
But not impossible!
So, if you're wondering how to make your wedding photography an eco-friendly business, then you have come to the right place!
In this article we'll talk you through some of the steps you can take — big and small — to reduce your business's carbon footprint and make green ways of working more central to your everyday process.
Ready?
Let's go…
The First Step Is Awareness
You'll struggle to make any positive environmental changes to your wedding photography business model if you don't know the specific areas for improvement. So, before you do anything else, just start being more aware of what, why and how you operate your business.
When you begin to scratch the surface, you'll quickly see how — although wonderful in so many ways — photography can be quite demanding on the earth's resources.
But don't despair!
Every cloud has a silver lining; so every area for improvement is a new opportunity for your eco-friendly wedding photography business!
And it certainly isn't the case that adopting more environmentally friendly ways of working needs to eat into the profits of your business. You may even find that operating a more sustainable business will be kinder to your bank balance, too.
Once you've developed more of an awareness around how sustainable your wedding photography business is today, you can start to take action.
Still stuck for ideas?
No worries, here are some examples…
Build Sustainability Into Your Branding
This is a super easy first step towards more environmentally friendly ways of working.
Whenever you have to print anything promotional for your business — posters, business cards, mail outs, flyers, etc., — make the quick switch from standard to recycled paper.
Printing companies are increasingly offering printing options which use re-purposed paper, so you shouldn't find it hard to secure a local supplier to help you in this.
There is a slight catch, though: printing on recycled paper does tend to cost a bit more, as it's still a specialized service. But — wait up — this has a plus side too!
As the cost of printing on recycled paper is higher, you'll be more likely to ask yourself: does this really need to be printed? You may decide to seek more bookings online, directing more marketing budget into Instagram, Pinterest or Facebook advertising.
So, it's a win-win, from a sustainability point of view!
Give Your Workspace A Green Makeover
True: it's important to stay hydrated, especially when you're working your way through hundreds of edits on Lightroom.
But these days, plastic is public enemy #1. So — if you haven't already — it's time to ditch plastic bottled water and invest in a glass or metal bottle instead.
By doing so, you'll start saving money almost immediately.
What's more: you can take really small steps in your workplace to reduce the environmental impact of your wedding photography work.
Turn off the light when you leave the room. Only put the heating on when you've run out of layers to wear. Recycle everything you can.
And – as we've already said — really consider whether you need a hard copy before you send a document to print.
… And Try To Chose More Sustainable Options When You're Working Out-Of-Office, Too
Every now and then it's good to get out of the office or studio, even if you're just answering emails from clients and organizing project logistics.
But how eco-friendly is your favorite coffee shop?
Where possible, try to find a cozy workspace in a small, independent business (rather than a big corporate chain). Keep an eye out for accredited, organic coffee beans. Make sure you ask your barista not to give you a straw with your iced coffee and always opt for reusable cutlery, where you can.
And when you've found a welcoming, cozy, eco-conscious business to work in — invite your friends, help spread the word!
Perhaps this new hangout becomes your go-to meeting spot with prospective clients?
Remember: first impressions count in client relationships. So, if they see that you've invited them to meet in an environmentally friendly business or independent establishment, you may well get eco-warrior brownie spots from the get go.
Which leads us nicely onto our next recommendation…
Partner With Other Eco-Driven Photographers And Wedding Vendors
The best way to encourage long lasting change is to surround yourself with a community who is doing the same. So, head over to Instagram or Facebook and reach out to any potential partners who could help you in your bid to be a more environmentally friendly wedding photographer.
There are tons of hashtags, related to both photography and the environment, all of which are worth exploring. Type in any of the following, and then look for posts from your local area:
#earthday #earth #landscape #photography #nature #naturelovers #travel #earthpix #naturephotography #earthescope #ecofriendly #earthfocus #earthofficial #natgeo #environment
Once you've found some fellow eco-conscious photographers in your area, why not ask to collaborate? You never know where it'll lead you.
What's more: there are lots of benefits to working alongside other environmentally friendly businesses. For example, if you can set up a collective of wedding vendors, who all share the same sustainability values, you could soon see your potential client list growing exponentially.
And that's because clients like to buy into a package.
If you've got a sustainable alternative to traditional wedding bouquets, from an eco-conscious florist, as well as a wedding dress boutique who specializes in pre-worn vintage, and you — as a green wedding photographer — then you all share promotion, positioning yourselves as the eco-friendly way to have a wedding.
Buy Secondhand Gear, Where You Can
We get it: new stuff is nice.
So, you don't have to curb your shopping habits or deprive your wedding photography business of the equipment it needs to succeed and grow.
The shopping rule of thumb, though, should be only buy new when you have to.
If you need a new camera kit bag, or big, fluffy coat to prepare for winter wedding season — why not head to a local thrift store first? You may be surprised what you can find.
And if you can't get what you want locally, then for sure you'll be able to find a good quality, lightly worn coat or camera bag on eBay or Depop.
The same goes for wedding outfits. When you're a wedding photographer, you can feel the pressure of having a wardrobe full of formal outfits, so you don't turn up look sloppy on your client's big day.
But these things don't need to be bought new! Vintage, thrift, retro — whatever you call it, buying secondhand is a great alternative (and often a lot cheaper, too.)
One more final plea on wedding clothing: please don't fall into the habit of 'wardrobing'. That is, buying an item of clothing, wearing it once and returning it. A lot of the time, clothing returned to a retailer doesn't end up back on the shop floor, it gets sent to landfill. Which is not good for the environment, at all!
Now, you may be thinking: "But I wouldn't trust secondhand tech for my wedding photography business!". And you'd be right.
We wouldn't necessarily recommend you buy pre-used SD cards, hard drives or other storage systems. It simply isn't worth the risk. If you put all your faith for a client's big day in an old, tired memory drive… only for it to fail on you? Argh, it just doesn't bear thinking about.
But a gently used lens? Or a vintage camera, which you use as a supplement to your main bit of business kit? Why not!
Oh, and make the switch to rechargeable camera batteries, if you haven't already!
Long Drives Are Sometimes Unavoidable – But Is There An Alternative?
In order to grow your wedding photography business, you may need to start taking on clients from further out of your hometown.
Indeed, you may also be asked to cover elopements out of state (or out of the country!).
So, in these situations, it's kinda unavoidable to take a long journey. We are definitely not asking you to turn down bookings, because they mean hopping in the car or on a plane.
But, wherever you can, try to plan your journeys in the most eco-friendly way.
For example: could you carpool to weddings with your second shooter or assistant? It's these small changes that help make you a more environmentally friendly business owner.
And then for all the little trips you take about town, for meetings or to and from the studio, can you cycle or get the bus?
Sure, it won't always be possible. It's all about doing what you can.
Remember To 'Leave No Trace' At The End Of Each Shoot
We've saved one of the most important points for last.
And this message is relevant for any photographer in the industry.
One of the most amazing things about working as a photographer is the locations you get to shoot in. Whether it's covering an elopement out in the mountains, or snapping a sunset over the sea. We are so lucky to witness such natural beauty through our lens.
So we want to protect nature and 'Leave no trace', right?
To do so, there are four golden rules to follow:
Nature is imperfect, so don't go messing with it to get the "perfect shot"
Listen to instruction and respect boundaries
Don't disturb the wildlife
Leave nothing behind.
Let's go through each of those in detail…
Nature is imperfect, so don't go messing with it to get the "perfect shot"
We've all been there: you've almost got the perfect frame… but there's just one little thing getting in the way.
Whilst it would be tempting to break off an overhanging branch… don't!
That's what Photoshop, or other editing software, is for.
Leave nature as it is.
Listen to instruction and respect boundaries
National Parks make for stunning backdrops for engagement and wedding shoots.
And most will have plenty of signage telling you where you can venture, and where is out of bounds. Remember, this information is not only there for your safety — and your model's, if you have one — but also to protect the natural environment.
If you come across a sign that says, "No entry" or even "No flash photography" there will be a good reason for it.
Please respect what's being asked of you.
Don't disturb the wildlife
When shooting outside, it's not unusual to bump into a few critters along the way.
If you do: please, please, please do not disturb them.
It's your responsibility as a photographer to make sure you talk your wedding clients out of chasing down these animals to get a shot with them in. Not only because, although they make look cute and cuddly, these animals are wild and shouldn't be approached. But also because you shouldn't interfere with their habitat.
If you are really desperate to branch out into wildlife photography, then invest in the right kind of kit — super zoom lenses, for example — to get the images you want, without having to get too close.
Leave nothing behind.
Last, but not least, make sure you don't leave any trash behind at the end of an outdoor shoot.
Even better — make a point of picking up any trash you find and taking it home with you.
To Wrap It Up: You Don't Need To Do Everything, But If We All Do One Thing Then The World Will Be A Better Place
We absolutely love this quote from Margaret Mead, a kick ass anthropologist who was very outspoken in the 1960s and 70s:
"Never doubt that a small group of thoughtful, committed citizens can change the world; indeed, it is the only thing that ever has."
What we take from this, is that as individuals we can't do everything.
But we can do something.
And hopefully you feel the same.
We're so excited to see what you do in your wedding photography business, to take little steps towards being an eco-positive force in the world!
Hopefully this ultimate guide has left you feeling motivated. For more mood-boosting content, head over to our collection of go-getting wedding photography quotes.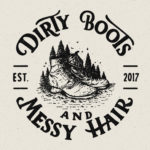 Written by:
Dirty Boots & Messy Hair Team
Connection is what it's all about. Feel free to reach out to us with any comments or questions you might have, even if it's only to say hello. If it wasn't for our beautiful community, this place just wouldn't feel the same.
Photographer Tips
05 Feb 2020