Hey Dirty Booters!
Today, March 8th, is International Women's Day — and you know what that means?
It's time to celebrate women in the wedding industry, lift them up, and learn from all their greatness. 💁‍♀️
In today's article we want to introduce you to six, trailblazing women who are great at what they do, and represent the very best of our female-powered industry.
Sound good?
Then let's dive right in.
1) Cara Mia (wedding photographer)
First up on our list is Cara Mia: a Utah based, jet-setting wedding photographer whose work is sure to blow you away.
Cara specializes in capturing scenic weddings and elopements, traveling far and wide to bring to life unique love stories across the globe. Just take a look at her Instagram, and you'll see how amazingly she uses Mother Nature to capture the perfect shot.
You'll also instantly pick up on her stunning, signature style — intimate, natural photography that puts couples at the center of some seriously breathtaking scenery.
We're inspired by Cara's passion for people, adventurous spirit, and how she's combined the two to create a career (and lifestyle) that works for her.
Turn the rules upside down, do what you love, and love what you do. That's the Cara way, and it's something we could (and should!) all learn from in every aspect of our lives.
Check out Cara's website to take a closer look at her work, and don't forget to hit 'follow' on her Instagram, too. Your feed will be all the better for it!
2) Manda Worthington from Mae & Co. Creative (wedding planner)
Back in 2016, Manda Worthington founded Mae & Co Creative to realize her creative dreams and live the life she loves.
Since then, Mae & Co has gone on to become one of America's leading wedding planners, specializing in one-of-a-kind, luxury weddings across the globe.
Whatever your vision, Manda and her team can bring it to life from start-to-finish.
Their services include:
Full-service wedding and elopement planning
Design
Styling
Installations
Tablescapes
… and so much more!
We're inspired by Manda because she's created her own lane and paved the way for others to follow.
What started as an idea is now a fully-fledged business with employees, international clients, and multiple strings to its bow — from wedding planning to online courses.
Manda shows us that if you have a dream, and the passion to make it happen, then the sky really is the limit. Check out our article on expanding your services as a wedding photographer to make 2021 the year of you. You've got this!
3) Tara Baker from Dancing With Her (wedding magazine editor)
Co-founder of wedding magazine, Dancing With Her, Tara Baker knows a thing or two about smashing glass ceilings and making her voice heard.
Dancing With Her is the world's only wedding publication that exclusively celebrates LGBTQ+ women in love, shining a light on same-sex couples and reminding us of the importance of inclusivity in the wedding industry.
She's standing up, improving representation, and dedicating her business to changing the world.
And what could be more inspiring than that?
Tara's story is a great example of how all of us in the wedding industry can use our platforms to raise the voices of those less heard.
Want to follow in her footsteps? Read our guide on becoming a more inclusive wedding photographer and learn more about the importance of representation in our industry.
4) Kianna Goodwin (executive assistant)
Need a helping hand?
Kianna Goodwin has got your back.
As an executive assistant for wedding photographers and creatives, there's not a lot that Kianna can't do to help you smash your goals in 2021 and beyond.
Her services include:
Handling admin tasks
Carrying out market research
Managing your social accounts
… and that's just scratching the surface!
Seriously, if you need it doing, Kianna can do it — and she'll do it brilliantly, too. Just take a look at her testimonials to see how much she's killing it.
One of the things we love most about Kianna is her Instagram. It's filled with super valuable social media tips that anyone in our industry will find helpful… and all for free, too! Check it out, and you'll see what we're talking about.
Think you could benefit from Kianna's expertise? Book a consultation with her today, and start outsourcing like a pro.
5) Grace Troutman (wedding photographer and educator)
Grace Troutman is an Iowa-based elopement photographer who brings to life weddings for the adventurous, the authentic, and the dreamers.
Her unique style combines beautiful landscapes with intimate photography that captures couples in an honest and candid way.
Grace isn't 'just' a photographer, though. She's also an educator — someone who's committed to helping all of us in the wedding industry be the best we can.
Take her Instagram Reels, for example. They're filled with top tips and behind the scenes footage, providing valuable insight into what it takes to be a successful wedding photographer… and in a pretty hilarious way, too!
For something a little more in-depth, Grace also offers guides and presets to help you level up your photography business, as well as one-to-one mentorships.
Pretty inspiring, huh?
6) Kenzie Kate (wedding photographer and not-for-profit worker)
Last on our list is Kenzie Kate from LA: a wedding photographer whose documentary style is perfect for capturing the complete story of any couple's special day.
In her own words, Kenzie aims to create images that feel warm, familiar, messy, and true. And that's what makes her work so special — she has the ability to capture real, fleeting moments, then make them last forever.
What we love most about Kenzie, though, is her work with the Las Fotos Project. Here, she elevates the voices of young girls from the BIPOC community by teaching them how to express themselves with a camera.
This is a great example of how we can all use our talents and skills to help lift up minority groups, and make their perspectives seen.
Learn more about the brilliant work of the Las Fotos Project by clicking here, and check out Kenzie's Instagram feed @kenziekatephoto.
Feeling inspired? Us too!
So, there we have it: six of the most creative and talented female leaders in the wedding industry today. They're pretty inspiring, wouldn't you agree?
Don't forget to show them some love and fill your feeds with some much-needed girl power today and every day! You won't regret it.
And on that note, happy International Women's Day. We hope you have fun celebrating!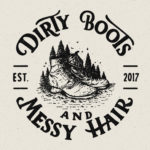 Written by:
Dirty Boots & Messy Hair Team
Connection is what it's all about. Feel free to reach out to us with any comments or questions you might have, even if it's only to say hello. If it wasn't for our beautiful community, this place just wouldn't feel the same.
Photographer Tips
08 Mar 2021