Shooting a vow renewal ceremony is a truly rewarding experience, and a great project to take on. Similar in many ways to a traditional wedding shoot, but with a wonderful array of extra ideas, possibilities and variety that give you more freedom, flexibility and creative opportunity. 
There is something very special about a vow renewal ceremony. The affirmation of a long-standing love, the anniversary of a special event, and the shared nostalgia for years and years of happiness all combine to create a beautiful atmosphere, and one that has some fantastic opportunities for where you take your creativity as a photographer.
We've pulled together some thoughts on how you might go about shooting a vow renewal, and what might differ from a standard wedding package, which will hopefully inspire you to take on these projects with a new eye for details and ambience.
Looking back and moving forward
Couples planning a vow renewal usually have one eye on their original big day, as you might expect. They will almost certainly want to include elements from their first ceremony, and little nods to the themes they chose then, as well as perhaps picking out details from their lives together since. 
This is a wonderful opportunity for you as the photographer, giving you a chance to play with nostalgia and shifts in time with your work. You could perhaps replicate shots or poses from the original day in your shoot, or emphasise little details that have changed or stayed the same over the years. 
Family shots, reproduced and updated with new members can be a really cute touch, and picking up on details like new engraving on original wedding bands is essential. The key is to emphasise the journey the couple has been on, drawing on elements from throughout their life together, as well as capturing where they've got to now.
Some couples will want to remind themselves of their wedding, holding the ceremony at the same place and inviting the same people. 
Some might want to take the opportunity to reference their life together, choosing a location with a special resonance for them, bringing in new friends and family from their life together, and generally updating the day to be about their shared experiences. 
Some might even want to do something completely different, going somewhere completely new they've always wanted to go, and taking their style in a totally different direction – eloping if their last wedding was a grand affair, or splashing out on all the bells and whistles if they were restrained and simple in the first instance. 
Whatever their decision, it's important for the photographer to tie these elements together, and make sure the overall theme or direction they've chosen comes across well.
A vow renewal ceremony certainly offers the opportunity to think more creatively about photography, shots, poses and set ups, as there is so much less pressure and established tradition about what the day 'ought' to look like. 
That said, couples renewing their vows are much more likely to have a fixed idea in their minds about what they want, and how they want the day to look. Having been through a wedding once already they will be more experienced, and possibly more demanding, and they are likely to have identified a load of elements they want captured already. They may even have picked you specifically for something you've done previously in your portfolio. 
You'll need to work closely with your clients before the day, and keep communicating throughout. Making sure everyone is clear about what is expected is obviously important for any job, but especially so in this case.
A lot of couples regret not filming their wedding ceremony, and use a vow renewal as an opportunity to capture their special moment on film. 
If this is something you can do, fantastic! 
If not, just remember the presence of another camera adds another thing to think about when lining up shots. You'll need to keep an eye out, and make sure they aren't interfering with your shots (and vice versa!). Getting together beforehand to discuss your respective jobs is a must.
A job shooting a vow renewal can be loads of fun, and extremely rewarding. The absence of traditions, rules, or restraints means that couples will be more flexible, creative, and fun, and gives you the chance to flex your artistic muscles, and maybe have more of an input into the look and feel of the day, making suggestions and helping out with shot ideas. There are obviously different challenges, and different priorities for the day, but all in all a vow renewal job is a great opportunity, and a lot of fun. Enjoy!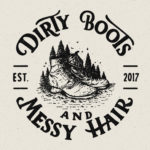 Written by:
Dirty Boots & Messy Hair Team
Connection is what it's all about. Feel free to reach out to us with any comments or questions you might have, even if it's only to say hello. If it wasn't for our beautiful community, this place just wouldn't feel the same.
Photographer Tips
07 Dec 2018