Dating is a funny thing. Despite how unique and varied people are, we tend to fall back on a handful of tried, tested and traditional setups for dates. And whilst going to the movies of having a meal are fun things to do, we think there should be more space for adventure – especially when it comes to first dates. 
Luckily – help is at hand. We've compiled 5 totally adventurous and unconventional first dates for you to impress your special someone with. Not only are they guaranteed to be super fun, but they'll also help you connect with your date on a deeper level than traditional date nights. Scroll down to check them out!
Volunteer your time together
What could be more meaningful or romantic than bonding over a cause you both care about? 
The volunteer project can be physical in nature (for example, a fun run), or it can be more emotionally involved (for example, helping out at a homeless shelter kitchen). Whatever you decide, this first date is sure to break through all the small talk barriers. Right off the bat you'll be connecting as social warriors, and collaborating as a team for something that with purpose. 
Even if the first date doesn't lead to a second, your first date had a social legacy, which is something you'll always share together. And that's kinda beautiful. 
If it does go well, well then you've basically skipped months of getting to know each other. You'll have already worked together as a team for something you're motivated by, which will give your next dates a depth that often takes a while to build.
Go stand-up paddleboarding
Stand-up paddleboarding (or SUP for short) might not have you looking your best for you first date. No-one ever wore a wetsuit to a date night for a reason. But that's kinda the point. 
Though SUP is available to people of any fitness, it's definitely challenging. You'll fall in the water, you'll look a little silly, and you'll laugh your bellies off. You'll have fun. 
Rather than having awkward small talk over a dinner table, you'll be laughing at each other and bonding over this fun activity – what could be better for breaking the ice?!
You can do it on pretty much any body of water (from a beach to a lake), so pack a picnic and enjoy lunch together afterwards – wherever the SUP takes you. 
If you want an adventurous date that isn't too physical, then why not head to a safari zoo? These kinds of zoos have animals roaming free, and you drive through (usually in your own car) on protected tracks, at your own pace. 
This date is an amazing way to have quality time to talk to one another, whilst having tons of interesting things around you to focus your conversation on. This activity will reveal favorite animals, perhaps even fears, which are all personal details that may otherwise have taken months to be revealed. 
Be sure to make sure your date is an animal lover before you embark on this adventure, though! If they aren't (and you really are), then maybe it wasn't meant to be anyway.
Bond over shared interests (or create new ones together). Invite your date into your world, and experience the joy of creating and learning together. 
There's a workshop for every taste. Whether you're into food, or art, or music – there's guaranteed to be a class for you to take your date to. 
This kind first date will give you tons to talk about, and will help you to learn more about each other. How you work through new things, what makes you tick, what drives your passions. It's a really unconventional date night cause it requires you to put in an active effort – but the result is so worth it!
A day trip can be a big commitment for a first date, so keep it casual with an urban hike. Plan a route through your favorite spots in your home town (or city) and then simply plan to spend a few hours exploring together. 
Meander around the places that mean something to you. Stop off en route for coffee or lunch, and uncover little parts of your history as you go. Simply enjoy nature as you walk, talk and get to know one another. Escape the chaos and pressure of the dating scene by letting Mother Nature guide you through your date. 
Whatever you decide to do for your adventurous first date – let it reflect who you are! You don't have to be conventional. Think creatively about what you love to do and how than could be a romantic activity, and go for it. Have fun!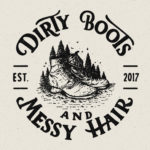 Written by:
Dirty Boots & Messy Hair Team
Connection is what it's all about. Feel free to reach out to us with any comments or questions you might have, even if it's only to say hello. If it wasn't for our beautiful community, this place just wouldn't feel the same.
relationships + dating
06 Dec 2018