The mere fact that you're reading this post means you most definitely need a little break. Instead of scrolling through your social media feeds or watching yet another cat video, read the rest of this article for some wedding season motivation.
Time for a reality check that you probably don't want to hear; success is not an easy breezy road of daisies. It takes work, dedication, unrelenting motivation… and a hella lotta coffe.
Right now, you may well be finding yourself in the peak of your working year. Also known as: Wedding Season. It can be exhilarating, joyful and challenging in the most positive and creative way. But it can also be an absolute slog at times.
We've been there, and we feel your pain.
This might just be the boost you need to recharge your energy bank and get ready for your next elopementor editing marathon.
"Dream it. Believe it. Build it."
You've likely spent many nights awake dreaming of what your photography business could be. You have visions of being a leading global photographer shooting the most prestigious weddings around the world. What's more is that you think you can actually get there.
It won't be easy but it's well within your potential if you put your mind to it. Take some time to strategize how you'll get there.
Network with the photography community, make friends with wedding websites and magazines and ask your friends to recommend you to their engaged friends.
Stay positive, no matter the setbacks, and be patient: success doesn't happen overnight. Know that you'll get there and enjoy the journey whatever it brings.
"Don't wait for opportunity. Create it."
Sometimes it's difficult to know how to move forward in your career. If you're just starting out and unsure how to begin, or you've reached a plateau, you might have found yourself stuck.
It's time to create your next opportunity, baby.
Cause one thing is for sure; opportunities are not going to fall into your lap. It's time to start reaching out.
Talk to other photographers about how they gain business, or what they do to keep their day-to-day schedule exciting. Reach out to photography websites to ask if they need submissions.
Heck, why not simply get out there and start taking photos?
It doesn't even need to be of a bride and groom. Taking photos of nature, animals, or your friends could ignite a forgotten passion or creativity. Learn a new skill that will give you an edge over your competition – like learning how to master drone photography. It's always a bonus if a wedding photographer offers something a bit on the wild side as part of their package!
"If you want great, then be great."
Every great relationship is based in honesty. Plus, really listening when your date is sharing things with you is a scientifically proven way to make your connection last.
You definitely shouldn't hesitate opening up about personal matters — it's a sign you feel comfortable around your date and consider them worthy of your trust.
Red Flag Alert: If your date is constantly talking about past relationships, romantic encounters or their current dating life in great detail – that's a sure-fire signal out of all those friend zone signs that they see you as a pal.
It's great they trust you so much they want to share those things. But you should ask yourself whether you are comfortable being their sounding board. At least as long as you aren't sure about where you stand emotionally.
"Good for them, not for me."
This is the underdog of motivational quotes, but we find its meaning extremely powerful. Who says a motivational quote needs to be hyped up to the max? Sometimes we prefer a quieter message.
With the saturation of social media, it's easy to become overwhelmed by what your contemporaries are doing. It's one thing to celebrate other's success, but don't let it tarnish how you feel about your wins.
Remember you're on your own path, not theirs. We can guarantee their career isn't all it looks online – everyone has their own struggles.
Stop telling yourself stories that you're not good enough. Success belongs as much to you as it does to anyone else.
Take inspiration from others, there's no need to be jealous or envious. Ask yourself, how can I learn from their success?
Get into the habit of turning every pang of negativity into a positive. You might just find it becomes natural after a while.
"If you get knocked down, get back up again. And again. And again."
This wedding season motivation might sound unforgiving, but it's an important lesson.
When you work for yourself, you will never please absolutely everyone. There will always be the odd client who is not happy, no matter how much you do for them.
Be gracious, apologize (even if it's not your fault) and offer a solution. You don't need to accept blame if you really feel you're in the right, but it's important to acknowledge disappointment so that your client feels heard.
Learn to draw a line under bad experiences, and try not to let it cloud your judgment moving forward. It's only natural that your self-confidence will be affected, but remember all the times you did please your clients and did an amazing job. We're sure it's ten fold!
Feeling motivated? It's time to get out there and show the world what you've got! Hopefully you've got plenty of weddings booked in over the next few months. Harness this time and be grateful to have grown your business to a point where you're in demand.
Try to always look objectively at negative situations. We know this isn't always easy – especially when you're exhausted and overworked.
A great way to do this is to ask your friends and family how they think you're doing. We're willing to bet they think you're absolutely smashing it. And you totally are! Congrats!
While you're here, we've pulled together the best editing companies for wedding photographers. Trust us, you're not going to want to miss this list.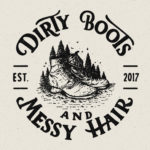 Written by:
Dirty Boots & Messy Hair Team
Connection is what it's all about. Feel free to reach out to us with any comments or questions you might have, even if it's only to say hello. If it wasn't for our beautiful community, this place just wouldn't feel the same.