Ten years ago, most of us hadn't even heard of Netflix. Now, it's become a major part of our cultural landscape. It is paving the way in producing high quality, highly addictive television shows and we are hooked.
If you're ready to dive into the world of Netflix, brace yourself. You'll be indulging in (actual) Netflix and Chill nights on the regs. So, if you have any important projects in the pipeline, we suggest you get these out of the way first!
We've pulled together a comprehensive Guide to Netflix to help you get started. Featuring some of our most favorite Netflix shows, these are our favorite shows from the past and present.
In all honesty, it was tough just to come up with a few! These shows are groundbreaking, and we're sure you'll remember them for years to come.
At the next sign of a rainy day, grab a duvet and some snacks and get ready to be sucked in, thanks to this DBMH Guide to Netflix!
In love with a British accent? Peaky Blinders stars the heavenly Cillian Murphy and is set in Birmingham, England during the aftermath of WWI. It's the story of a fictional, but entirely believable, crime family who are willing to go to extreme and dangerous lengths to gain control of Birmingham. It follows their journey and family dynamic as they move up in the world, coming up against brutal enemies and even making deals with the British government.
Peaky Blinders is a menagerie of beautiful costumes, cinematic landscapes and sexy actors. Don't miss this one!
It began with a cult following and grew to become the original Game of Thrones. The hype around the final couple of seasons of Breaking Bad was off the scale.
Although it's a few years old now, it's most certainly worth revisiting. It charts a modest chemistry teacher's rise from downtrodden, middle aged man to a king of the underworld. After receiving a terminal cancer diagnosis, Walter White turns to the crystal meth trade in order to leave some money behind for his family. But in getting involved in the drugs trade, he gets way more than he bargains for. It's not always an easy ride so prepare for some major twists and turns.
Britain's Queen Elizabeth II is the most famous woman in the world. You might think you know everything about her story, but do you? Claire Foy portrays the Queen beautifully in her younger years.
The show charts her life from when she married Prince Philip in 1947, to taking the reign in 1953 and beyond. If you enjoy a period drama (think Downton Abbey vibes), with plenty of romantic intrigue, heartache and political power play you will enjoy The Crown. The best part is the drama actually happened in real life. It also allows the viewer to get to know the lesser known members of the royal family such as the vivacious Queen's sister Princess Margaret and the unfaltering Queen Mother.
Mindhunter is one of our favorite shows of 2017. It's based on the true events surrounding the early days of FBI criminal profiling in the late 1970s. Two members of the Behavioral Science Unit set out to interview some of the country's most prolific murderers – coining the phrase "serial killer" for the first time. In trying to understand their thought processes, they begin to create a profile to help the FBI catch killers in the future. They develop techniques the FBI still use today and shared with crime agencies globally.
This show is all about the characters. The surprisingly funny FBI members, the chillingly cold murderers and the relationships that develop. Mega gripping stuff.
Always wondered what makes the world's leading chef's tick? Obsessed with watching cooking shows on YouTube? This show is for you. Each episode is a beautifully shot, mini documentary following a different top chef. The first season includes the maverick Massimo Botura and new kid on the block Grant Achatz.
Rather than focus solely on the food, Chef's Table goes beyond the kitchen to get to know the person behind the chef's whites. It interviews family members, colleagues and industry insiders to find the real story and even tracks back to their childhoods. It will make you want to book a table at their restaurants immediately – no matter the cost!
One of the most watched shows on Netflix, Making a Murderer follows the stories of Wisconsin resident Steven Avery and his nephew Brendan Dassey and their involvement in the murder of Teresa Halbach. After spending 18 years in jail for sexual assault and attempted murder (a crime he has always denied), new evidence exonerates Avery making him a free man. When suing the county for damages, a crazy sequence of events unfolds and he finds himself yet again connected to another horrific crime. This time the sexual assault and killing of Teresa Halbach which his nephew is also involved in. If you loved the hit podcast Serial, you will be obsessed with Making a Murderer after 5 minutes.
Make sure you watch this show with someone else – you'll be dying to discuss and dissect every episode after you've watched!
When Stranger Things hit our screens for the first time in 2016, it instantly became a cult classic. Set in the 80s, Stranger Things (starring Winona Ryder) charts the supernatural goings on in Hawkins, Indiana.
Series 1 centres on the spooky disappearance of Will Byers, while the second season explores the consequences of the mysterious events his disappearance. The third and final season focuses on "forces of evil that are new" – we'll leave it cryptic for you to find out what that means for yourself!
When series 3 aired, it broke Netflix's streaming record, with over 40 million households (yep! You read that right…) watching the show in the first four days alone.
It's super creepy. Super addictive. And super well filmed, so if you're planning to start this series, make sure you've got time to devour all three series in one go.
Following on the supernatural theme, we couldn't have a guide to Netflix that didn't include German sci-fi series, Dark.
Dark by name, dark by nature, this drama follows a group of teenagers who want to solve the disappearance of a missing child. That's the simple explanation. The actual exploration involves, time travel, nuclear disasters, mind-bending physics and so much more.
If you like sci-fi, and you're sold on the creepy 80's period drama vibe of Stranger things, then you're going to freaking love this series!
Feeling a TV binge coming on? Us too! These shows are some of the best ever created so you're in for a real treat. No longer do you have to wait a week for a new episode to be shown, Netflix releases all episodes in a season in one go, so you can truly get engrossed in your favorite show.
Netflix has a fantastic selection of shows from all genres, so whether you're in the mood for a gripping crime documentary, or prefer a more uplifting comedy watch, you're bound to find something to suit your tastes. Perfect for a night in with friends or your partner, get cozy and switch your mind off for a second. The perfect way to end a busy or stressful day.
Need some date inspiration? We've come up with the best free date ideas to surprise your loved one with.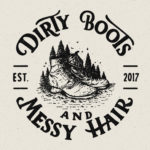 Written by:
Dirty Boots & Messy Hair Team
Connection is what it's all about. Feel free to reach out to us with any comments or questions you might have, even if it's only to say hello. If it wasn't for our beautiful community, this place just wouldn't feel the same.