Wedding registries are one of the things that couples tend to struggle with when planning a wedding. Sure, the thought of pulling together a list of gifts might seem like it'll be super fun, but when it comes down to it it can actually be kinda stressful.
Not only can it be overwhelming to think about what to actually include in your list, you may find it awkward to ask so directly for specific things. That's why we've compiled a mini guide to creating a registry that's perfect for you, without the stress. Follow these tips and you'll be on your way to registry mastery in no time!
First up, forget everything you think  you know about registry lists. Quite honestly, the concept is pretty outdated, and was designed for a time when most couples only started their lives and homes together after marries.
If you're already well into the swing of your lives together, then feel free to ignore all the typical 'homely' items that tend to crop up on registries. Don't need a 24 piece dish set? Cool, leave it off. Already have all the vases and soft furnishings you need? No problem. 
The beauty of a registry is that it can – and should – reflect you as a couple. If you love to explore, then your registry could well be a travel fund for your honeymoon. If you're feeling philanthropic, then you can set up charity funds and ask your friends for donations, instead of physical gifts. Think critically and creatively about yourselves, your lives, and what's important to you, and start from there.
Though it might feel slightly awkward, it's definitely quite alright to set up your registry early on in your wedding planning process. Some of your friends and family may want to gift you something for your engagement, and your registry will be the perfect place for them to start. 
Starting early also gives your friends and family plenty of time to figure out where they'd like to support you, and to save up for anything that's more substantial.
3. Cover a range of pricepoints
Some guests, particularly your closest circle, may want to buy you something expensive for your wedding, whereas others may prefer to buy a smaller gift. To cover all eventualities, make sure your registry includes items of both high and low value. 
Because it'll be quite difficult for you to know which price point your guests will opt for, be sure to spread your items across all price ranges fairly equally. The last thing you want is for your guests to be left with only gifts that are well above or under their budget because they hit the registry too late. To make sure you avoid this, put more on your registry than you expect to receive. 
4. Money is also an option
Let's face it, weddings are expensive. It's therefore completely fine to request donations to cover your costs rather than physical gifts, if you prefer. This option is known as a 'cash registry', and there are lots of sites online to help you do this.
Whilst your guests might prefer to buy you something they perceive to be more 'gift like' than a donation, ultimately they just want to get you something you'll love. And if that's some pressure relief from the cost of your day, then so be it. 
Your registry should be a reflection of the things you love as a couple. To decide what goes on it needs to therefore be a joint exercise. This can be a really fun and enlightening experience. You'll find yourselves talking about what kind of home you'd like to have together, what you might need for your future family. It may open a discussion on things you've never thought of before, and could bring you that little bit closer together than you already are. 
6. Put your eggs in a couple of baskets
It often helps to set up a couple of registries, rather than having all your eggs in one basket at one retailer. This will help to make sure that there's a wide selection for your guests to choose from, and they'll still have the feeling that they are buying you something they've picked out just for you.
The simplest way to graciously let you guests know about your registry is through a wedding website. This way, your registry will be easy to find, without you having to flat out mention it (which you might find uncomfortable)
That's all there is to it. Have fun with your registry and remember to make sure it's the perfect fit for your unique styles, tastes and personalities!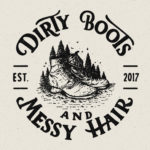 Written by:
Dirty Boots & Messy Hair Team
Connection is what it's all about. Feel free to reach out to us with any comments or questions you might have, even if it's only to say hello. If it wasn't for our beautiful community, this place just wouldn't feel the same.
Wedding Planning
22 Sep 2018