If you're part of a bride tribe, one of the most exciting tasks you'll have on your hands is to organize a bachelorette party for your bride.
If you're reading this, you're probably on the hunt for something a little out of the ordinary. That's why we've pulled together our top ideas for the unconventional, wild bride. Say goodbye to tequila shots and tutus (though they can definitely be involved too), and say hello to unique experiences you'll remember for a lifetime!
If your bride is most at home amongst mother nature, then why not take her into the great outdoors for her bachelorette party? Grab your girls, don your walking boots, and mark out a route that will take her somewhere beautiful. 
Keep the route a surprise, and organise little activities along the way. For the creative among you, you might even consider creating a treasure hunt for the trip. Hide clues and meaningful trinkets throughout the hike. It could be things that point back to an special memory you share, or items of clothing that she has to put on along the way. Think outside the box and turn nature into your playground! 
Wrap it all off with a a camping or glamping overnight stay. Whether you decide to pitch a tent or do something a little more comfortable, you're guaranteed to have quality time together. Bring marshmallows, set up a fire, and gossip into the night…
Can we come too?
If your bride prefers working out to going out, then why not indulge her in a yoga retreat for her bachelorette?
If you were thinking of doing an overseas party, then a yoga retreat could be the perfect shout. They tend to take place in some of the most beautiful spots on Earth, most of which you'd never think to go to. 
This option is a great way to enjoy some wholesome time together. In between the yoga and chill, you'll have tons of time to connect with one another, get rid of the pre-wedding jitters, and try out something new. 
Namaste …
Is your wild bride an animal lover? Then Grab your riding boots and cowgirl hats take to nature for an exhilarating riding experience your bride will never forget! 
Depending on where you're located, there are lots of riding schools that offer guided horseback riding experiences for bachelorette parties. Good for beginners and pros alike, this experience is sure to get your heart racing and clear your heart and minds. 
Pick a route that is meaningful to your bride, and then organize a day riding gently through the wilderness. What could be more memorable that trotting side by side whilst traversing through the best that Mother nature has to offer? 
Top the day off with a meal and drinks outdoors, and party on into the night.
So many parties take place on dry land. Shake things up a bit and take your bride on an adventure in the open seas.
You can easily charter a small sailboat or yacht (along with a skipper) for a day or two, and then sail with your gal pals someplace beautiful. An ocean experience is the perfect way to really get away from the hustle and bustle of crowded bars and lounges, and to gift your bride an intimate bachelorette party far from the stares of other party goers. 
This is the perfect choice for brides who curl up at the thought of being the centre of attention in a busy place. Just make sure she doesn't get sea sick before booking! 
We love travelling, so we couldn't have a bachelorette party list that didn't involve road-trippin! 
What better way to celebrate with your bride tribe than to hire a camper van and take a road trip someplace gorgeous. Bring all your supplies on board and then go where the feeling takes you. Drive along the coast, head through the hills, drive wherever the wind takes you, knowing that you can sleep safe and sound in the back of your van. 
For ideas and places to pit stop on the road trip, check out here and here.
6. Throw a Backyard Shindig
Planning a bachelorette on a budget? No worries, we have you covered. 
Instead of doing something fancy, why not instead simply throw a backyard party filled with all the drinks, snacks and activities your bride loves? 
Is she a big movie buff? Then set up a screen outdoors (a simple white sheet will do), hire a projector, set up some outdoor lanterns, and throw your queen a movie night. Get all of her favorite movies and spend the night in your pyjamas at your own outdoor cinema.
Set up some tents to sleep in overnight and turn your typical pyjama party into an outdoor lover's paradise! 
Whatever you opt for, we're sure your bride will be so touched that you're creating a bespoke wild adventure, just for her. 
Happy planning ladies!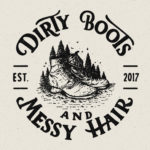 Written by:
Dirty Boots & Messy Hair Team
Connection is what it's all about. Feel free to reach out to us with any comments or questions you might have, even if it's only to say hello. If it wasn't for our beautiful community, this place just wouldn't feel the same.
Wedding Planning
26 Sep 2018