A beautiful Red River Gorge Elopement. Here at Dirty Boots and Messy Hair, we've decided to put together a new series where we feature adventure elopements from our amazing Facebook community members accompanied by a quick little interview with the artist behind the camera.
Today's post focuses on an amazing Red River Gorge elopement photographed by the talented Jenna Stevens Photography. This elopement is full of snow, rock climbing, and so much love. Don't believe us? See for yourself!
Tell us about this couple and their elopement! (How did they meet, what made them decide to elope, etc.)
Christian (Groom) and Colbey (Bride) Adair met in high school at a Friday night football game. Christian asked Colbey out for 8 months until she finally said yes! They decided to elope because it aligned more with their values as a couple. They are all about going against what everyone tells you to do, especially if it feels more right for yourself! They decided to elope in the Red River Gorge in Kentucky. This place replenishes their souls and brings them so much joy.
What was the planning process like for this elopement?
The planning process was an absolute breeze. They knew they wanted a day full of their favorite activities in the gorge: hiking, rock climbing and Miguel's PIZZA!
What were some challenges you faced as the photographer?
One of the biggest challenges was definitely rock climbing with my equipment! One wrong move and your equipment is done and you better hope insurance will pay for it! My assistant/husband did most of the climbing with my equipment for me. He's a better climber than I am!
Another challenge was just trying to stay vigilant. It was very icy on the cliff. I had to move slow and make sure my couple didn't move too fast or get too close to the edge. One wrong move and someone could have been flying off the cliffside.
*Definitely only attempt this type of elopement if you have climbing experience.
How were you able to make this so personal to them? (How did you encourage them to make it uniquely their own, or did you?)
I asked the couple to make a list with all of the things they love to do TOGETHER. Their list consisted of hiking, rock climbing and pizza & beer!
I knew this couple loved going against the norm, so we made their elopement a 2-day event!
Day 1, they hiked up and said their vows cliff side accompanied by their hiking boots, back packs and Country Boy Beer cans. We ended the day by putting our headlamps on and hiking back down in the dark.
Day 2, we woke up at sunrise and went rock climbing!
What advice do you have for other elopement photographers?
Take the time to talk with the couple about their vision and about the things they like to do together so that you can create an experience for them that is authentic to who they are as a couple. Also, encourage couples to make their elopement a 2-day event!
There you have it folks! The ins and outs of a Red River Gorge elopement! We can't thank Jenna enough for sharing her experience, imagery, and expertise with us. Be sure to give her a follow on Instagram, and join our Facebook group if you're interested in having one of your elopements showcased on our blog. We look forward to seeing your work!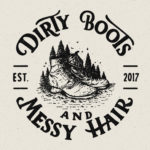 Written by:
Dirty Boots & Messy Hair Team
Connection is what it's all about. Feel free to reach out to us with any comments or questions you might have, even if it's only to say hello. If it wasn't for our beautiful community, this place just wouldn't feel the same.
Weddings & Elopements
29 Apr 2021