If Bridget Jones' Diary is anything to go by, there's absolutely nothing worse than being single at Christmas.
It's the season where everyone's cooped up inside, keeping warm with their loved ones. You're reunited with distant family members you haven't seen since last year, who want updates on your love life. Work holiday parties call for plus ones on the invitations and Love Actually is playing on basically every channel.
Sigh.
But you know what ladies, instead of letting our yuletide singledom get us down: let's embrace it!
With the right mindset, being single can be really great. And, if you think about it, Christmas might actually be the best time of year to be uncoupled. You can spend your time off doing whatever you please, you don't have to stress over buying the perfect gift, and you can stock your kitchen with Christmas cookies without anyone else eating them.
It's time to throw out the stereotype of the sad single all alone for the holiday season. Here's how to have an amazing time being single at Christmas.
Round Up Your Single Friends
Surely, you're not the only person you know without a partner?
Now's the time to catch up with all your single friends and get out on the town. While your coupled-up counterparts are stuck suffering through a dinner with their in-laws, you should be out living your best life.
Make a weekly standing date night with your single pals, and take turns choosing fun things to do. And get out of your comfort zone – go for a hike or hit up a museum, instead of just doing yet another night of dinner and drinks.
Newsflash: you don't need a partner to go out on a date!
You can take yourself out – because really, what better company is there than your own?
Grab that book you've been meaning to read for months to your favorite restaurant and spend a couple of phone-free hours there. Or do something that you might not normally do on a "typical date" – like an art class or a sunset hike.
Spending some time completely on your own is like hitting the reset button. You don't have to get all deep or spiritual about it, but we all need a couple of hours to ourselves every now and then, just to stay sane.
Why not take that solo time to the next level, and go away on a full-blown trip?
The holidays are the perfect time to travel, especially if you've already got time off work. And there's really nothing better than solo traveling.
Yes: it sounds daunting to begin with, especially if you're used to taking trips with family and friends. But once you ease into it, there's a certain freedom you can never experience when you're with others. You get to call all the shots, set the itinerary, and choose where to go for dinner.
The only downside is having no one with you to take your photo… maybe invest in a selfie stick?!
Binge-watch to Your Heart's Content
When the weather outside is frightful, there really is nothing more delightful than cozying up on the couch for hours.
Use this time on your own to catch up on all the shows you've been meaning to watch for the past year. So, stock up on snacks, load up Netflix, and wrap yourself in a fluffy blanket.
Now is your chance to finally watch The Crown and all those other shows your friends have been raving about. Or just rewatch The Office for the tenth time while drinking your weight in hot chocolate or wine – there's no judgement during the holidays.
And – as a single lady this Christmas – you don't need to compromise at all on who gets to hold the remote.
Find A Hobby That You're Passionate About
If, even after all this, you're still feeling bummed about being single this Christmas, then maybe it's time to throw yourself into a new project.
We strongly believe that everyone needs a good hobby to keep them sane. It doesn't have to turn into a side-hustle or huge thing, just something fun that you enjoy doing for a few hours a week.
If you've always wanted to improve your drawing, spend some time learning about the craft and get doodling. Even if you just end up uploading your masterpieces to Instagram, it's nice to invest time and feel proud of what you're sharing.
If cross-stitching or calligraphy is more your speed, head down to your local craft store and ask for advice from the experts there. Or hit up your local library and check out books on all your random interests.
Sure, the internet is right there but sometimes it's nice to read an actual physical book. Curl up with a coffee and get reading, and suddenly you'll be that friend who's always spouting fun facts about every topic.
Hopefully all this time to yourself has made you realize that, hey, it's actually pretty damn great being single.
Having a bed all to yourself with no one stealing the covers, getting complete control over the music in the car… it's awesome!
So, now's the time to fully throw yourself into your single status.
But if you're struggling a little to come to terms with it, fear not, the internet has resources galore to help you along. Start with some podcasts all about celebrating singledom or find Facebook groups for people in the same boat as you. Soon enough you'll be embracing being single AF. Even at Christmas!
Or, Lean into Online Dating
Okay, maybe this is counter-intuitive to loving your single life. But if you're a week into the holiday season and already sick of being alone, maybe it's time to rethink things.
The beauty of online dating is that you don't need to go searching for a full-blown relationship, or your next big love. Dating apps are also great places to find some fun people to spend time with.
We all know Tinder, Bumble and Hinge can be a lot of hit and miss. But if you put a little effort into making your profile pop – over a glass of wine (or three) with your friends – you'll definitely find some good eggs out there.
Casual dating really is the best of both worlds: you have someone to hang out with when you want it… but you can also get that always-important solo time when you need it.
Set Yourself Up for Your Best Year Yet
Whether you choose to be single at Christmas or go down the dating route – Christmas is a great time for self-reflection.
As the new year approaches, it's so easy to get caught up in the frenetic "where did the year go?!" energy that seems to come from every direction. It can be pretty stressful to realize that you mightn't have crossed off all your resolutions or kicked every goal you'd been planning on scoring.
So, instead of internalizing this stress, turn it toward planning how you're going to make 2020 your best year yet!
Make thoughtful and achievable choices.
Instead of huge, broad goals like "I want to save money," break these ambitions down into smaller objectives that are easier to track. For example: "I will start making coffee at home instead of spending $30 a week at my local coffeehouse" or "I will contribute $400 to my savings account each month".
Then find an accountability buddy and make a pact to check in with each other at regular intervals to make sure you're on track.
Hopefully these tips will get you through to the end of the holiday season without a "Why am I still so single?!" breakdown.
Do you have any tips for surviving the holidays while single? Let us know in the comments below, we'd love to hear them!
And if you're still feeling blue, turn up your speakers and hit 'play' on our confidence boosting playlist. Track 1: "Can't hold us" – guaranteed to get you amped for whatever is ahead!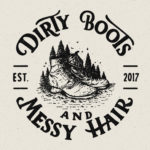 Written by:
Dirty Boots & Messy Hair Team
Connection is what it's all about. Feel free to reach out to us with any comments or questions you might have, even if it's only to say hello. If it wasn't for our beautiful community, this place just wouldn't feel the same.