Deciding whether to show your photography prices on your website is such a sensitive topic. Annoyingly, there really is no right or wrong no matter what you decide.
There are so many schools of thought about this topic that we thought it about time we pulled together our advice. To help you figure out what's best for your business, here are some options for you to consider.
What is it? 
The 'Bare it all' approach basically means that you choose to have all your pricing and package details publicly listed. You will most likely have a clear pricing page on your website, that cuts through the guff to get to the numbers. You will clearly describe what each of your package contains, and any options that couples can add on or shave off. 
Why is it great? 
A couple might absolutely love your style, but if they can't afford your rates, well, chances are you won't be working together. Choosing to have your rates publicly listed makes it really easy for couples to know if you're in their ballpark or not. It also sends off the signal that you are open and transparent in your approach, and that what you see is what you get. This is likely to be reassuring for a couple who are in the throes of planning a wedding, and sceptical about hidden costs creeping in.
Having your prices listed is also likely to encourage more people to get in touch. A lot of couples are contacting dozens, potentially hundreds of vendors. That's hundreds of people they're giving their email and wedding details away to, without knowing if it will lead anywhere. If you have your pricing listed, they will have the confidence before getting in touch that you are worth it, that it might actually go somewhere. When they do contact you, you'll be able to cut through those initial back-and-forth emails on money, and get down to the much more rewarding task of seeing if you're a good match.
Who does it suit?
Wedding photographers who don't want to spend tons of time sifting through cold leads, and who are comfortable with fixed price packages.
What is it? 
This option gives you the opportunity to show where your rates begin. This gives potential clients enough information to know whether they should contact you or if you're out of budget. 
Why is it great? 
The Sneak Peak approach gives you a little more control to create truly bespoke packages for your clients, without them already being anchored in a specific package price. If couples contact you after seeing your starting rate, they are in the ideal position of having a) seen and loved your style and b) knowing that they can afford you. That leaves you with the awesome task of using their inquiry as time to interact on a personal level, to set your business apart from the rest. 
By now you are more than just a number, you are someone who the client can imagine sharing their most intimate day with. So you can use the inquiry as an opportunity to create a package that best fits their unique needs, with an individual price point to match.
Who does it suit?
Photographers who want to create bespoke packages on a case-by-case basis.
What is it?
This approach centres around using your website to solely focus on your approach and style, and leave the rest hidden until the couple inquire. 
Why is it great? 
Wedding photography isn't cheap, but it is an investment that is well worth the price. This approach allows couples to really get to think about you as a photographer and artist, free from the influence of monetary considerations. If the couple go on to inquire from this point, you can be sure that they love your work and are warm leads.
However, beware, in doing this you will vastly increase the number of emails you receive, many of which probably won't lead to a booking due to budget mismatches. 
Who does it suit?
The intrigue approach is suited to photographers at the higher end of the pricing spectrum, who want to build a brand based on exclusivity.
Remember, there's no right or wrong in any of these three choices. So whatever you decide, make the choice that suits the kind of creative business you wish to run.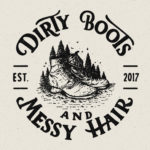 Written by:
Dirty Boots & Messy Hair Team
Connection is what it's all about. Feel free to reach out to us with any comments or questions you might have, even if it's only to say hello. If it wasn't for our beautiful community, this place just wouldn't feel the same.
Photographer Tips
23 Jul 2018