It's time for our weekly crush and this week we are crushing hard on Reagan Hembree of Reagan Aleea Photo! Ray is a wedding photographer based out of LA! She has such a beautiful eye for details and truly captures such raw emotion from her couples. Check out what Ray has to say about her biz, life, and the ins and outs of wedding photography!  
Where are you sitting as you are writing this right now? How's your day going? How are you feeling?
I'm currently sitting in my new, cozy little LA apartment. It's going well! It's a Monday & it just started but I have a lot to do this week & I'm really excited for it all.
To those that might not know you just yet, please introduce yourself – Who are you? Cat or dog person? What's your photography style?
My name is Reagan and I'm a photographer originally from Charleston, SC. I just recently moved to California a couple of weeks ago! I'm a travel junkie always searching for the next adventure. I'm also super addicted to sunshine, so the move was a good one. I have a dog but also really love cats so I'm going to have to say both. I'd say that my photography style is wild, moody & a little messy. It's kind of an odd combination but at the end of the day my biggest goal is to create art that I really love. I want my photos to make you feel something while also capturing a specific moment in time.
Can you show us 1 or 2 photographs that are particularly meaningful to you and share the story behind them?
Wow this was so tough! I have a ton but I'm going to say these two- but my favorites are changing all the time. I really love this one because it was completely candid. Robert & Conner had just said I do & we ventured away from everyone to get some couple photos. The grass was wet & Robert immediately scooped Conner up & they walked away like this. I loved it not just because they did it on their own, but it worked perfectly with the location, colors & reflection on the water.
This is also a current favorite because I've been so about slow shutter recently. Audrey & John were dancing around being silly after the sun had set & I feel like this photo really captures their personality & the moment. I also LOVE diptychs and feel like the photos work perfectly together.
What role does Instagram play for you as a photographer? Is it important for your business? 
Instagram is a pretty important tool for me as a photographer/ business owner. I've booked a lot of clients through there but also find a lot of inspiration every time I get on. Also, Instagram friends are THE BEST. I try not to fully depend on it for marketing or targeting clients but it definitely helps & I'm super thankful for it.
If you had to pick just one thing, what do you love most about being a wedding photographer?
I always think about this while I'm photographing weddings & elopements & it changes every time! I usually form really good relationships with my clients by the time their wedding comes so it's fun to see how happy they both are. I obviously love couple photos & that usually happens right after the ceremony when the bride & groom are super excited/ in shock which is fun to see. First looks are also AMAZING along with the receptions. Just being able to be there & document all the love is such an incredible experience.
What's the biggest challenge you've faced that you could have a helpful lesson for other photographers? 
Honestly, I think I'm in the middle of it with this move. It's tough moving a business across the country especially when you've built up such a great clientele in the original location. I knew it wouldn't be easy, but I'm definitely having to start from the bottom & work my way up again. I think it's important to make good decisions for your business, but you also have to figure out what's best for you. It might not always go hand in hand & that's okay because it will all work out in the end. I truly believe that if you feel called somewhere, you need to go. Everything happens for a reason & you can always go back but if you don't take risks with your business you'll never grow!
Who or what inspires you?
In the wedding photography world, India Earl for sure. I did a workshop with her last year & I not only is she one of my favorite photographers but she's such a sweet human. Her work was actually what inspired me to get into weddings & elopements. I also really love Brooke Dombroski for fashion & Anna Heupel for lifestyle & travel. I'm also obsessed with film photography & love using that for inspiration!
What are your dreams for the future of your career?
I really want to travel full time. I'd love to be an international elopement photographer while also doing a lot of creative work for fashion brands & travel companies. I feel like wedding photography is a strong niche & not many people combine travel, weddings, fashion & lifestyle. I want to combine all four & be known for all of them rather than just one. I don't really know of any other photographer who does an equal amount of everything so it would be super cool to be that person.
Major thanks to Reagan for sharing her insight on all things photography! Be sure to head over to the gram to give her a follow and check out more of her amazing work!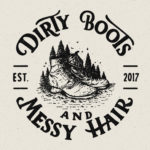 Written by:
Dirty Boots & Messy Hair Team
Connection is what it's all about. Feel free to reach out to us with any comments or questions you might have, even if it's only to say hello. If it wasn't for our beautiful community, this place just wouldn't feel the same.
Photographer Tips
10 Apr 2019