All wedding photographers know that every wedding is special. It doesn't matter if you are inviting the whole town to a three-day bonanza or you have snuck away with your family and two close friends for the most intimate and relaxed day possible. 
Unfortunately, there are still many people who view elopements as a less special alternative to a traditional wedding. The idea persists that when you forgo the conventions and traditions, you lose the meaning of a true wedding.
But that could not be farther from the truth!
For us, the important thing about a wedding is who you are with, not how you do it. If you and your partner decide that a traditional wedding set up just isn't for you, then don't let anyone convince you otherwise.  Ultimately, when you are standing in front of your soulmate, and committing your lives to one another, nothing else matters.
In this article, we compare elopements vs. traditional weddings in ways that you more than likely hadn't thought of before now. We feel strongly that eloping is just as important and precious as having a traditional wedding, sometimes even more so. Here's why.
Elopements dial up the romance
Can you think of anything more romantic than just escaping with your lover, and saying your vows to each other in secret?
Of course, elopements these days are less likely to be about escaping tyrannical parents à la Romeo and Juliet, and more about wanting to do something exciting, low-key and romantic, but the feeling still stands.
Avoiding the hoopla and stress of a full-on traditional wedding allows you to be as romantic, even as cheesy as you both want to be, and the slightly clandestine nature of an elopement only adds to the intimate ambiance.
Elopements mean it's just about the two of you
There are other people's considerations when planning a traditional wedding. The invite list alone can be an enormous headache.
– How many people can you invite, and who will feel left out if they don't make the cut?
– How will the complicated family feuds interfere with your carefully thought-out seating plan?
– Will *that* uncle make a scene again?
At times it can feel like a traditional wedding is more about what other people want, and especially about what your families want, rather than what is best for you as a couple.
Not only that but some couples don't enjoy being the center of attention.
If involving more people changes what you'd say or do on the day you commit your life to your partner, then you don't have to invite those people.
If you don't want a microphone, and you really don't want your great-aunt to hear you include Beyoncé lyrics in your vows, guess what?! That's absolutely ok. You don't have to invite them.
When you elope, the whole day becomes just about you two, and your love. This doesn't mean that your elopement can't involve a group.
You can totally invite your immediate family, and even a couple of your close friends, but the bottom line is that it is the perfect day just for you two.
Eloping means you choose the perfect location
One of the most exciting things about eloping, is you can have the ceremony wherever you want. Destination weddings can be a huge stress, and a real problem for guests, as they tend to end up being hugely expensive.
But if it is just you and your fiancé, you can go to the most beautiful location you can think of, or somewhere special to you both as a couple. Did you meet at a coffee shop and you want to rent it out for the day?
Do you both love hiking and want to hike to the top of a mountain together? So if you're adventurous souls, then an elopement is likely to satisfy your inner wanderers far more than a traditional day.
Elopements can be as personal as you like
With a traditional wedding there are always going to be certain things you have to do, and certain ways of doing them. The forms and the functions are part of what makes it traditional.
When you elope, what you are 'supposed' to do goes out of the window, and the ceremony and the whole day can be designed to be as personal and unique as you want them to be. We think this is a pretty big deal.
Elopements are all the joy, none of the stress
Elopements by their very nature are an incredibly romantic thing to do, whisking yourselves away in secret (or with your tribe) to say your vows, and making your love the main, if not the only, important thing about the day.
They eliminate the stress of organizing a big wedding, dealing with logistics and your soon to be mother-in-law's opinions on dinner choices, and worrying about pleasing other people. Essentially, they allow you to focus on the joyful nature of what you are doing, without any of the worry or stress that comes with a conventional wedding day.
A wedding is a very personal thing, and whatever you choose to do is the right thing for you. We do hope, however, that we've been able to show how eloping can be every bit as special, important and worthy as sticking to the traditions on your wedding day.
Forget all the silly myths about eloping and focus instead on doing whatever it is that feels most right to you. If you need a hand with your elopement planning, here are 10 elopement dos and don'ts to help you on your way.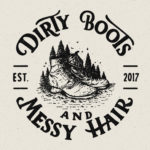 Written by:
Dirty Boots & Messy Hair Team
Connection is what it's all about. Feel free to reach out to us with any comments or questions you might have, even if it's only to say hello. If it wasn't for our beautiful community, this place just wouldn't feel the same.
Wedding Planning
03 May 2019