The dating scene is full of stereotypes: there's the over-confident guy, who'll flirt with you all night and then never call you again; there's the shy and retiring guy, who's probably a sweetheart once you get him to open up; there's the unlucky-in-love girl who, following a string of unsuccessful first dates, vows to "give up on men"; and there's the man-eater, whose dress is far shorter than her list of conquests. 
You've probably seen them all before, right? Dating can get quite predictable.
For as long as people have been dating, gender roles and expectations have also been making themselves clear. Man: take the lead, pay the bill, call again. Woman: wait to be approached, turn up looking pretty, hope they call. 
But for many of us… this dating game isn't working! Young people today are having less sex than generations before; let's delete the old rules and usher in a new age. An age where women take control and are more lucky in love! 
Want to double your chances of finding love?
What if we were to tell you, that in one easy way, you could more than double your chances of dating success? You may not like it, as it can be a little scary… but, deep breath: you should make the first move.
Yes, a new study from dating site OkCupid has found that when a woman reaches out and starts the conversation first, they are 2.5 times more likely to get a response than when the guy tries to ignite a flame. That's the power of women! 
Saying "Hi" first — sounds easy enough, right? Yet we all know that in the moment, nerves and sudden mind-blanks can leave us tongue-tied. Sometimes we spend so long trying to think of a good opening line, that we end up dropping the idea all together. 
OkCupid found this to be true too; despite women having a significantly higher chance of hitting it off with someone if they message first, single ladies are far less likely to step up to the challenge; straight women are 3.5 times less likely to send that ice-breaking text.
A rallying cry: let's get out there and get what we want!
What do we want? Dates! When do we want them? Now! Who do we want them with? Someone with a good job, whose close to their family, dresses well, likes to socialize but not too much, has a full head of hair, knows what they're doing in the bedroom, possibly has a musical/artistic side, will be the right balance between sexy assertive and sweetly sensitive, and owning a pet would be a plus.
…. Are we too picky? Is that what's holding us back from making the first move? 
When using a dating site or app — like OkCupid, or Tinder, or eHarmony, or Hinge — there are no shortage of potential matches to browse through; do we get paralyzed by the choice and wait for the game to be made easier by only chatting to those who come to us first?
If it's the case that we need to really sift through, to find the diamonds in the rough — data from The League found an average of 84 matches leads to one successful pairing — then, by making the first move and chatting to double the crushes… we'll be speeding this process up, right? Seems making the first move is the fastest way to get what we want.
Build confidence; gain control
There's so much to gain from being bold and making the first move, ladies. 
Once you dive in and get more comfortable with taking the lead in sparking up conversation, you'll probably find your overall confidence when playing the field sky-rockets. It's gonna feel good to realize how wanted you really are! You can take this new found confidence off the couch (or wherever you do your dating app admin!) and out into the world; why not say "Hi" to the next cutie you see in a coffee shop? 
It's 2018 and, sadly, we are still fighting for equality. In your own way, taking initiative and establishing a relationship that's based on level ground — avoiding all the stuffy old stereotypes and gender expectations of yesteryear — you're gaining the control you deserve, and paving the way for other women to do the same.
Isn't it crazy how a simple "Hi, how are you doing?" can make so much difference? What are you waiting for? 
Go get it, girl!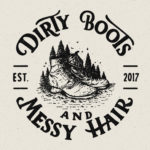 Written by:
Dirty Boots & Messy Hair Team
Connection is what it's all about. Feel free to reach out to us with any comments or questions you might have, even if it's only to say hello. If it wasn't for our beautiful community, this place just wouldn't feel the same.