Our weekly photographer crush is Brandy Nichols of Brandy Nichols Photo! Brandy is an elopement/couples/intimate wedding photographer based out of the PNW! We sat down with Brandy and learned all about her, her business, and her inspo! 
Where are you sitting as you are writing this right now? How's your day going? How are you feeling?
Right now I'm sitting on my couch, Peaky Blinders (Netflix show) is playing, I just tucked my kids into bed, and also trying to not make eye contact with the mound of laundry on my couch next to me. My day was goooood; lunch date with my bestie + big fat kisses from my kids + hubby when they got home. I'm feeling anxious, because I need to pack-heading out of state for work and leaving my babes is always hard on my heart! But, traveling excites me to no end!
To those that might not know you just yet, please introduce yourself – Who are you? Cat or dog person? What's your photography style?
For those that don't know me (which is SOOOOOO many haha, but this excites me- to hopefully meet new people too!!) my name is Brandy Nichols! I'm a mama to two incredible, hilarious kids, Ryder and Haeleigh, my son Ryder is my heart, and my daughter Haeleigh is my soul. I'm also a wife, to my very best friend who I have been with and in looooove with since I was 11. So about 19+ years. Honestly, those are the most important parts about me. I LOOOOVE cats, more than dogs, but I do like dogs:) My style of photography may not be everyone's cup of tea, but damn does it make my soul igniiiiite! I feel like my style is warm, candid and full of light, I love to get up close but also step back and take it alllll in! Some may say differently or agree, but I feel like my work evokes some amazing emotions; it makes me feel happy.
Can you show us 1 or 2 photographs that are particularly meaningful to you and share the story behind them?
I could show you 100 photos that are so meaningful to me, but if I had to pick two, they would honestly be of my family. My kids (and if you follow my IG you already know how hilarious my kids are and how my daughter is a dancing machinnnne). Their laughs. Because they inspire me, their laughter and love and honestly their carefree spirits inspire me to bring out the child-like feelings of my couples and families when they are in front of my camera.
What role does Instagram play for you as a photographer? Is it important for your business?
onestly, I owe so much to Instagram, it has been vital to my business in sooooo many aspects. It is my main source of inquiries. I have a true love-hate relationship with it though, which I think a lot of people do! But this is only because I LOVE that it connects me to so many people and locations I never imagined meeting or seeing, and I HATE it because well…algorithms lol. SO I don't even try to understand it and just post, comment and like amazingly talented people's work and my friends and families pictures. I treat it like a fun app that happens to be imperative to my business lol.
If you had to pick just one thing, what would you say you love the most about being a wedding photographer?
That I get to witness love stories, over and over again. I witness them, and then I get to put these moments I witnessed together for my couple's to relive over and over. After every wedding I go home and lay on my husband's chest, these amazing weddings always make me relive my own wedding. Pretty damn beautiful if you ask me!
What's the biggest challenge you've faced that could be a helpful lesson for other photographers?
PRIORITIZE. And not just your work flow, but your LIFE. Your TIME. I stretched myself so thin this past year (don't get me wrong it was incredible and I am so thankful) but I didn't prioritize my personal life with my work life. Don't ever forget to live, to take in life, make living YOUR life a priority and just fuckin LIVE. I got to the point where I was so wrapped up in BOOKING BOOKING BOOKING, every free second I was trying to fill my schedule…bad idea mama. Well, this year I have taken the time to block out so much time for my own life, my family, to live. It may not be the best advice, but if that hits home for someone in this industry, that is enough for me:)
Who or what inspires you?
WHO inspires me-well shit, that is easy, my husband, my kids, Laurken Kendall, Anni Graham, Trey Wallace, (if you don't follow them, do yourselves a damn favor and DO IT. WHAT inspires me-laughter, touch, the sun,  traveling, that may not make sense, but those things set some sort of fire inside of me and make me want to create right then and there, and go to places and breathe in this insane world!
What are your dreams for the future of your career?
My dreams for the future of my career are simple; to never forget my "why". Why I started, why capturing a photo felt so exciting and why editing a photo made me smile from ear to ear, why sharing the finished photos with people made me cry with joy from their sweet words. I just never want to forget why I started and why I love it. Oh and to travel the world hahaha, because when I was a little shit I said I wanted to be a national geographic photographer when I great up…welllllll, a girl can dream right?! I'm cool with capturing love stories, all the beautiful laughter, all the sunkissed or intimate love around the world and just stay subscribed to nat geo magazines instead!!
Major thanks to Brandy for answering all of our questions! Head on over to insta to check out more of her amazing work!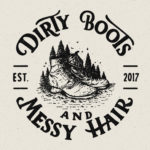 Written by:
Dirty Boots & Messy Hair Team
Connection is what it's all about. Feel free to reach out to us with any comments or questions you might have, even if it's only to say hello. If it wasn't for our beautiful community, this place just wouldn't feel the same.
Photographer Tips
06 Feb 2019