This week, we are crushing hard on Pamela and Loretta of Heirlume Photography! We sat down with them to learn all about how they run their business as photographer besties. Check out what they had to say below!
Where are you sitting as you are writing this right now? How's your day going? How are you feeling?
We are both at home happy and content with our babies (Pamela has a real baby and Loretta has two fur babies). 🙂 Our days are busy but filled with stuff that we are blessed with. We're always feeling ambitious with a dose of cooky on the side.
To those that might not know you just yet, please introduce yourself – Who are you? Cat or dog person? What's your photography style?
We are Pamela & Loretta, photographer besties from LA. We are total dog AND cat lovers- any animal for that matter! Our style is a unique blend of candid and editorial. We absolutely love when our work feels natural and not too contrived, but we continue to find that the edit and composition often have a very editorial feel.
Can you show us 1 or 2 photographs that are particularly meaningful to you and share the story behind them?
The first photo we chose because we feel so much from this image. We feel it represents the intimate and beautiful connection between two bodies while celebrating the female body in a non-sexual way. We embrace any chance we get to create with nudity as we are both inspired by bodies and human connection. The second photo we chose because we feel it represents so much of what we strive for as wedding photographers. We love real moments, especially when emotions are high. This photo was taken as these two were reading their vows to each other before the ceremony. We also love to let light lead our shooting style so when this moment was captured, we immediately fell in love with the significance of the image.
What role does Instagram play for you as a photographer? Is it important for your business?
We are hard core Instagram fans! A huge majority of our clients find us from Instagram. We like to ask potential clients where they found us, and we love the answer "we went down an Instagram spiral and found you two". Haha! Picking what pictures to post is a daily mountain for us to climb. We take a long time deciding exactly what picture to post, what looks best for our feed, and then spend forever coming up with captions that end up just cracking us up and getting vetoed by both of us.
If you had to pick just one thing, what would you say you love the most about being a wedding photographer?
Woof, such a hard question to answer! If we have to pick one it would be the relationship that we end up having with our couples. It is such an honor to be let in and be a part of such an important moment in their lives. It's also a really cool bonus to go to work with your best friend. 😉 Sorry we had to throw another one in there! Haha!
What's the biggest challenge you've faced that could be a helpful lesson for other photographers?
Our biggest challenge in the beginning was finding our edit, being consistent and honing in on our overall look and branding. It can be overwhelming with the massive amount of incredible work out there but what's important is finding a look that YOU love and that fits your shooting style.
Who or what inspires you?
Artists that are unapologetic about their work and on their own unique path. That's the work that interests us and keeps inspiring us to break out of our comfort zone and always let art lead us.
What are your dreams for the future of your career?
The goal is to continue to meet and work with incredible couples who trust us and who are down to get a little weird. Our dream is to be able to travel around this magical planet while doing it.
There you have it folks! Huge thanks to Loretta and Pamela of Heirlume Photography for sharing with us. To see more of their amazing work, be sure to head over to the gram and give them a follow!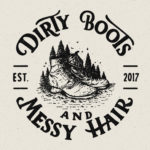 Written by:
Dirty Boots & Messy Hair Team
Connection is what it's all about. Feel free to reach out to us with any comments or questions you might have, even if it's only to say hello. If it wasn't for our beautiful community, this place just wouldn't feel the same.
Photographer Tips
03 Apr 2019