June, global PRIDE MONTH, is slowly coming to an end. But anyone who has been paying attention will agree: Taking a stand for the LGBTQ+ community should not be reduced to a couple of weeks of the year – love is worth celebrating all year round.
The wedding industry certainly still has a way to go in regards to inclusivity and becoming a safe space for LGBTQ+ everywhere. And photographers have a massive influence (and responsibility) in how the industry portrays itself. If we are going to support the LGBTQ+ movement, it's on us to take a long hard look at ourselves (and our portfolios) and figure out whether our brand represents that support.
HOW CAN WEDDING PHOTOGRAPHERS BECOME AN ALLY TO THE LGBTQ+ COMMUNITY?
That's the question we asked a bunch of our favorite photographers that we feel are currently shaking up the wedding photography scene with their gorgeous images and vocal support.
Their answers were eye opening and packed with actionable advice. We're excited to share them with you today.
The start of Tara Beth Photography was founded in Tara's dream of establishing herself as one of the top LGBTQ+ photographers. The biggest inspirations for her work are the unique and awesome couples she gets to photograph on a regular basis. It's a responsibility she doesn't take lightly – but a mission she wouldn't give up for the world.
Q: How can we become more inclusive in the wedding industry?
Tara: A way to make yourself more inclusive in the wedding industry is to first make sure that YOU are legitimately accepting + loving of all people. If you hold a prejudice within your heart towards the LGBTQ+ community it will eventually shine through and cause harm to your clients.
So many LGBTQ+ people are terrified to hire a straight identifying wedding vendor for fear of being silently judged. If you don't believe that LGBTQ+ people should be able to get married, then don't try to monopolize on their wedding.
Start within yourself!
Q: How can wedding photographers make LGBTQ+ clients/couples feel respected, heard, and welcome?
Tara: Share (on social media) what you want to be shooting!!!! If you want to be noticed by the LGBTQ+ community share all of your LGBTQ+ clients on your social media pages. If you haven't photographed any LGBTQ+ couples yet, then reach out to friends (we are everywhere!). Shoot them for free! Start to build solid LGBTQ+ content to show to others.
Also, be VOCAL on your social media pages about LGBTQ+ issues! Prove to your future clients that you truly are an ally!
If you are silent about the issues you won't be viewed as someone they can trust, let alone someone they want to invite into their most important + intimate of days!
Crystal is an artist and wedding & lifestyle photographer based in Louisville, Kentucky. She is also the co-founder of the non-profit Fair Event Vendors Alliance (FEVA). She identifies as LGBTQ+ and prides herself in capturing the stories of all kinds of couples, regardless of body type, skin color, gender identity body type or physical ability. We are head over messy boots for her captures that show the happiest people in the moodiest tones. Definitely check out her work here.
Q: What is one thing that you love about where the wedding industry is now vs. when you started as a photographer?
Crystal: When I started my business 5 years ago, the wedding industry was still dominated by outdated traditions and gendered language. A box I never felt comfortable in, especially as an LGBTQ+ person.
With the passing of marriage equality, the industry has evolved to be more inclusive, accepting and customized… a modernization that needed to happen anyway to speak to millennial couples that are equal partnerships. These couple are equally involved in crafting their wedding narrative and not interested in gender normative traditions.
Everything has changed! My forms became gender neutral, my marketing strategy became even more inclusive visually and in writing. Where I had assumed certain traditions were going to be included in the past, I dropped the preconceived notions and truly LISTENED to my couples.
This shift in paradigm has led to celebrations that are more authentic and images that tell their own unique story. My client's experiences, as well as my experience as an artist, have vastly improved for the better. I'm so thankful!
Q: How do you care for your LGBTQ+ couples?
Crystal: I care for my LGBTQ+ clients in every way I can.
From creating inclusive forms, to making sure that LGBTQ+ folks are represented in my online presence, to asking open-ended questions during consultations, to making sure my body language is open and warm to make them comfortable, to using inclusive language including their pronouns correctly, and finally, to being truly present for them on their wedding day.
These are best business practices I bring into all my work, but I am especially conscious to implement them with LGBTQ+ couples.
"USING INCLUSIVE CONTACT FORMS & LANGUAGE, REPRESENTING LGBTQ+ FOLKS IN MY ONLINE PRESENCE AS WELL AS CREATING A WARM AND SAFE SPACE WHEN WE MEET – THESE ARE JUST A FEW THINGS I DO TO MAKE SURE MY LGBTQ+ COUPLES FEEL COMFORTABLE."
I'm also the co-founder of a non-profit organization called the Fair Event Vendors Alliance (FEVA), which is aimed at connecting the LGBTQ+ community with Louisville and Southern Indiana wedding and event vendors who stand for fairness and welcome LGBTQ+ clients.
We created an online directory for easy access to this group of vendors for LGBTQ+ couples so they could avoid discrimination when planning. We also provide free annual LGBTQ competency seminars to teach vendors how to make their businesses inclusive. We also co-sponsor many LGBTQ+ events with other organizations.
The idea is to educate folks about Queer history, but also to visually link the Stonewall generation and modern Queer folk, to express that it is because of these forbearers that the current generation has survived and thrived.
Abe and Isaac are photographers living in Chicago, Illinois. They are heart-forward humans, empathetic photographers, and travelers deep-diving for magic wherever they go. There are few things they love more than dreaming up authentic ways to spread light and goodness while they're here. Whether through photography, creative consulting, or helping you hone the vibration you're sending out into the world—they're here to showcase your magic. Get to know them better here.
Q: How are you celebrating diversity in your work?
Abe & Isaac: Our approach to life is to stay open, and to celebrate what connects. We meet people on airplanes and in restaurants and on sidewalks, and they are surprising and diverse and wonderful, and we photograph them to share what we found. Or, maybe better, what found us.
"WE DON'T INTENTIONALLY DIVERSIFY – WE STAY OPEN AND AWARE AND THAT APPROACH HAS CONNECTED US WITH DIVERSE AND WONDERFUL PEOPLE EVERYWHERE."
This has taken us around the world, and to corners of home we didn't know, with new friends we couldn't have anticipated. It is authentically diverse, and we believe that's what life itself wants to be, in the large: richly varied, and joyfully celebrated. And it is through photography that we spread that joy around.
Q: How do you want to see the wedding industry celebrate diversity more?
Abe & Isaac: Diversity cannot be manufactured. It can only occur, and it can only occur if we are inviting surprise. This means loosening our grip on what happens next and celebrating the surprises when they happen.
For the wedding industry, this means explicitly welcoming everybody.
"THE WEDDING INDUSTRY NEEDS TO EXPLICITLY STATE THAT IT WANTS DIVERSITY – AND THEN WELCOME IT WHEN IT ARRIVES."
It doesn't matter if your portfolio is non-diverse: own your history and use your words to invite in folks who don't look or act like what you've photographed before. When someone surprising makes contact, have the conversation and – if the energy fits – take the surprise and run with it.
We want to see the wedding industry celebrate diversity by saying that we *want* it, and then welcoming it when it arrives.
Steph is the owner of Steph Grant Studios and founder of the Promote Love Movement – a safe space for the LGBTQ+ community raised in a religious environment to connect and share their stories. She is known for being one of the first LGBTQ+ photographer in the industry and for photographing the first lesbian Indian wedding which vent viral in 2013. Check out her incredible work here.
Q: Tell us about the Promote Love Movement you started?
Steph: In 2013 I had an LGBTQ wedding go viral. My heart was happy knowing that people were spreading the love and that many hearts are changed because of this blog post.
Over the course of 2 weeks this post has reached over 272,000 people, in more than 200 countries / territories, and had over 81,000 views in just one day alone. After that I made a huge decision in my career to market myself as an LGBT PHOTOGRAPHER.
I spent a lot of my life being taught to fear the idea of getting outside of my box. I was scared of people who were different than me. When I let go of that way of thinking…. I was happier.
STEPH'S ADVICE TO EVERYONE FEELING LIKE THEY DON'T BELONG: DON'T BE AFRAID TO LIVE OUT LOUD AND LOVE YOURSELF FOR WHO YOU ARE. BE UNAPOLOGETICALLY YOU.
Steph: When I realized I could showcase the subjects in my images while telling my story – that's when things really took off. I had no idea I would be doing it full time! It kind of took me by surprise and I like that.
I started a non profit called the Promote Love Movement – a safe space for the LGBTQ+ community raised in a religious environment. It's a place for them to connect and share their stories so that we can empower each other and as a way to put positive vibes back out in the world with our allies.
There is power in numbers and there is strength in love.
Q: What's one way the wedding industry (or maybe more specifically photographers) can come alongside and support LGBTQ+ couples?
Steph: Don't tiptoe around promoting that you're inclusive and outwardly supportive of the LGBTQ+ community. If you lose clients because of it those are not clients that you want to work with. Stand your ground and be an ally.
Don't leave couples guessing… they're more than likely not only dealing with the stress that already comes with planning a wedding, but anxiety on top of that – because of fear of being turned down by wedding vendors for simply existing and loving.
"IF YOU WANT TO BE AN ALLY FOR LGBTQ+ COUPLES, DON'T LEAVE THEM GUESSING AS TO WHETHER YOU ARE. PART OF THAT IS GIVING OPTIONS FOR PRONOUNS ON YOUR CONTACT FORM – NOT TARGETING EVERYTHING TOWARDS "BRIDE & GROOM"."
Be an ally for the right reasons… we can tell the difference. Give options for pronouns on your lead capture on your website and inclusive words in your contracts. Not just bride & groom.
Take hateful comments and use them to fuel your energy and do something meaningful. Be visible and vocal for those who cannot.
What we put out into the world can have the power to save a life, to breakdown stereotypes and give others hope to find their voice.
If you'd love to get some additional tips and tricks on how to be an ally to the LGBTQ+ community – head on over to Steph's blog where she, Tara Beth & Kelly Balch have an in-depth conversation about the topic: LGBTQ+ REPRESENTATION IN THE AGE OF SOCIAL MEDIA: WHY AUTHENTICITY MATTERS
Thank you Tara, Crystal, Abe, Isaac & Steph! You valuable input has given us SO many ideas for things we can improve to make Dirty Boots & Messy Hair are warmer and more welcoming space for the LGBTQ+ community.
And now we'd love to hear from you – what are you going to do from now to make your brand more inclusive of LGBTQ+ folks? What have you already been doing that could inspire others?
Discuss with us over on our social channels – we're excited to hear from you!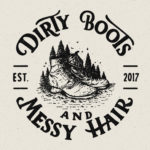 Written by:
Dirty Boots & Messy Hair Team
Connection is what it's all about. Feel free to reach out to us with any comments or questions you might have, even if it's only to say hello. If it wasn't for our beautiful community, this place just wouldn't feel the same.
Photographer Tips
30 Jun 2019