A simple and timeless gay wedding styled shoot in Cologne, Germany. Here at Dirty Boots & Messy Hair, we live by the saying love is love. So when Marvin Trevisi, a wedding planner in Cologne, Germany, sent us this amazing styled shoot, we knew right away that we just had to share! And what a more perfect time for him to send this our way than Pride Month!
We are obsessed with this real couple and their love and cannot way to show off the amazing photography, design, and other incredible vendors who helped make this shoot possible.
Are you ready for it? Read on to see more from this simple and timeless gay wedding styled shoot!
Tell us about yourself and your idea behind this shoot!
Even though Germany is a liberal country LGBTQI+ people do face discrimination from time to time. I grew up in the countryside of Germany and being a young gay man, life wasn´t always easy.
In fact, it was rare and most people found it not "normal" back then. I was always asking myself:
What is normal though and who defines being normal?
Once moving to Cologne, which is considered the gay capital of Germany, I found myself in an environment where life was much more colorful compared to my hometown and being gay wasn´t such of a big deal. With time passing my vision of becoming a wedding planner became clearer and clearer. While building my own brand it was always a goal to incorporate diversity into my business model. My vision was to show the world the simplest thing: LOVE IS LOVE. In Germany LGBTQI+ couples can get legally married since 2017 and have the same rights as heterosexual couples when it comes to marriage. But still, gay couples can not get married in churches so there is still inequality when it comes to same sex marriage.
What was the planning process like for this shoot?
While visiting the location for a side inspection I immediately had the vision of an LGBTQI+ getting married in the chapel. For sure it is not the exact same thing as getting married in a church but at least it comes closest to a real church wedding and allows LGBTQI+ couples to get married in a church ambience. So, I decided to organize a styled shoot of an LGBTQI+ couple getting married in this special location. Designing the concept, I kept the simplicity and special lighting of the location in mind. I wanted the shooting not to be loud and colorful, but to show that gay couples also have the desire to celebrate a simple love and a wedding just like everyone else. Looking for vendors who share my vision I found the LGBTQI+ video and photographers Vivi and Kate who are also a same sex couple building their own business by telling peoples love stories through their lens. To make the feeling during the free wedding seem even more like a real church setting, I asked the gospel singer Boysie White, who by the way is also a drag queen, to sing "You Raise Me Up" by Westlife.
What were some challenges you faced?
For me, being a believer I wanted to show the world that even gay couples should get the chance to get married in church and that there is nothing contradictory about it. My belief is that a higher power loves all of us – no matter what age, race, skin color of sexual orientation. Looking for opportunities to make church weddings possible also for LGBTQI+ couples I found the event location Eventkapelle in Cologne. Eventkapelle is a small, desecrated chapel open for celebrations of all kinds.
How were you able to make this so personal to them? (How did you encourage them to make it uniquely their own, or did you?)
Knowing the couples story, I understood that coming from completely different backgrounds where being gay and finding true, accepting love also was not always easy. After hearing the couples story, me and the wedding celebrant martinredet decided to incorporate a sand ceremony into the free wedding ceremony. The sand ceremony should show the guests that the different worlds the couple comes from on that very day of the wedding would become one world only. While looking for wedding suits for the couple at the men's outfitter Guido Lepper Mode für Herren, we found out that the couple that back than were in relationship for less than a year had never seen each other in a proper suite.
What was your favorite part of this shoot?
Just a week after the fitting and a week before the styled shoot, the couple, Tim-Joachim and Michael called me to say that during the fitting we inspired them to get married also in real life and that Tim-Joachim proposed to Michael. The two are getting married this July already. On the day of the shooting itself it was raining cats and dogs but the couple filled the location with so much love and made the shoot seem like a real wedding. The affection, acceptance and love they share for one another made even the wedding vendors forget that this was only a styled shoot. Their love made it feel like a real wedding day. The outcome speaks for itself. They did not need any direction during the shoot, and we just let their love language speak. I couldn´t be happier with the outcome because if the picture show one thing it is that LOVE is LOVE!
There you have it folks! We can't thank Marvin enough for sharing his experience, imagery, and expertise with us. Be sure to give him a follow on Instagram, and join our Facebook group to submit your own styled shoot or adventure elopement. We hope this inspired all of you to remember that LOVE IS LOVE!
Vendor List: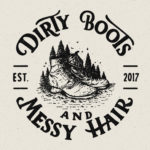 Written by:
Dirty Boots & Messy Hair Team
Connection is what it's all about. Feel free to reach out to us with any comments or questions you might have, even if it's only to say hello. If it wasn't for our beautiful community, this place just wouldn't feel the same.
Wedding Planning
28 Jun 2021