Our DBMH weekly crush is Nathaly Norman! Nathaly is a photographer in Alabama who specializes in lifestyle and wedding portraiture. We caught up with Nathaly and she let us in all things photography, life, and business! Take a look at what she had to say!
Where are you sitting as you are writing this right now? How's your day going? How are you feeling?
I'm currently sitting on my couch editing while my husband plays fifa, and snuggled up with our 10 year old pup! That is what we do whenever I have to work at night… he gets to play video games or watch sports while I edit the night away! Of course, Bob our wiener dog, is always very supportive!
To those that might not know you just yet, please introduce yourself – Who are you? Cat or dog person? What's your photography style?
Hiii guys, I'm Nathaly Norman! I am an extrovert, Jesus lover, popcorn addict, crossfit goer, "friends" watcher, unnecessary shopper, dog obsessed, and newly wife to my sports fanatic husband! All in all, I am a lifestyle and wedding photographer based in the small town of Auburn, Alabama. I have been doing photography professionally for 2 years now, but the truth is the camera hasn't left my hands since I was very little. I'm originally from Brazil and moved to the U.S almost 9 years ago!! But english can still be hard after a long day of photoshoots haha, I guess my clients always get a good laugh out of it! Right now I live with my husband, Ryan, and our dog, Bob, on a cute little townhome. Needless to say we are both dog people haha we are both very allergic to cats so… dogs all the way!
I love the beach and I love the mountains; I love warm weather and I love cold weather; I love to be adventurous but also love to lay on my couch; I love the light and I love a moody day; I love to travel and I love to stay home with family; the bottom line is I'm a 50/50 person that is just very passionate about lots of things. I'm passionate about what I am doing at the moment. Passionate about capturing the raw love between a couple whether that is hiking a mountain or just driving to a local coffee shop. My goal is for my photography to be timeless, so whenever you look back at it in 50 years it will be just as beautiful as it is now.
What role does Instagram play for you as a photographer? Is it important for your business?
Instagram is definitely the most bitter sweet social media/business tool app out there. And every business owner said: AMEN. I mean… one day you are loving it and one day you are just straight up hating it. I love how it has connected me to people, not only clients but also other very talented photographers and vendors. About 90% of my clients come from instagram, so it is obviously an amazing tool! The key to it is not get hung up on it. So many of us get hung up with followers (yes talking about me as well), but at the end of the day I would rather have a full booked calendar than followers. So every time I catch myself being caught up with likes and followers I just look at my calendar… whenever my calendar is not full than I will start worrying about that hahaha.
If you had to pick just one thing, what would you say you love the most about being a wedding photographer?
After getting to eat cake haha, I would say the uniqueness of each wedding. I love capturing how every wedding is different. From interaction of bridesmaids and groomsmen, to dresses, cake, decoration, ceremony, reception… everything! Also, I LOOVE to "win" and whenever I think I am the person that spends the most time with the bride and groom it makes me really happy hehehe.
What's the biggest challenge you've faced that could be a helpful lesson for other photographers?
The biggest challenge for me right now has been time management. Photography is still not my only full time job and I have spent more days having panic attacks looking at my to-do list than I can count. And I know many people have that problem, not only as photographer. I know I am not the only person that has that challenge but I am just sharing what my challenge has been and how I have faced it. I have learned that is okay to say no. That is okay to not get that wedding. That is okay to choose sleep over editing sometimes. That is okay to close your eyes and take deep breaths. We don't hate our jobs but if 95% of the time we are overwhelmed and freaking out than at some point we are going to make our passion our hate. I have learned to trust God 100% with my work and if one day I don't get that client to close out 4 weddings in a month, that is okay because I know that God has something else in store for me! I can't let my schedule own me, I got own my schedule!
Who or what inspires you?
A few other photographers that inspire me besides Janelle Elise and Autumn Nicole are Lukas Leonte and Shannon St. Clair ! All of their work is so pure and unique! I also spend a good time looking at my own work for inspiration. Looking back at my own work inspires me to be better, and it inspires me to stay true to my own work and not others.
What are your dreams for the future of your career?
Let's talk about a silly dream: being at a line at starbucks and the person in front of me be scrolling through instagram and a picture from my account pop up. hahaha I told ya silly!! I feel like is when singers say they know they made it when they hear their song on the radio haha. As far as a real dream goes… to be able to know how to balance being a wedding photographer but also present in my family's life. Since I am just starting I know I want my first few years to be filled with weddings, but as the years go by I want to make sure that I am learning how to balance both. I would also love to be able to travel with my clients around this globe. Like I said before I love to stay home but also love to travel, so a good balance would be perfect haha! I dream to be a photographer that inspires others not only because of my photography but also because of who I am. I dream to be able to leave my mark in this industry!
There you have it folks! Huge thanks to Nathaly for being this week's DBMH photographer crush! Head on over to insta to give her a follow!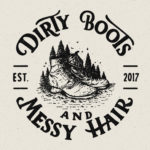 Written by:
Dirty Boots & Messy Hair Team
Connection is what it's all about. Feel free to reach out to us with any comments or questions you might have, even if it's only to say hello. If it wasn't for our beautiful community, this place just wouldn't feel the same.
Photographer Tips
16 Jan 2019